Samsung: Get ready to BEND OVER – foldable fondleslabs 'by 2016'...
... but first, we'll need to penetrate 'technology barriers'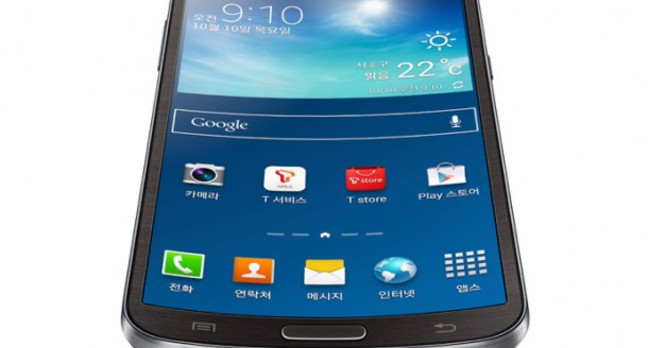 Samsung has stuck a timeline on its introduction of foldable screens on phones and tablets at its Analyst Day in Korea today, aiming to bring the tech out in late 2015 or early 2016.
The electronics firm had already teased its vision for foldable phones in a rather terrible advert it aired at CES earlier this year (from 2.40 on the video) but a slide from its presentations snapped by Sammy Hub has given a timeline on flexing and folding screens.
Samsung has already brought out its first curved display with the début of the Galaxy Round last month and according to the slide, bending displays should come around sometime next year. The Korean chaebol has pegged foldable screens for 2015 to 2016, although it does have a little sticker labelled "Technology Barriers" standing in the way of that.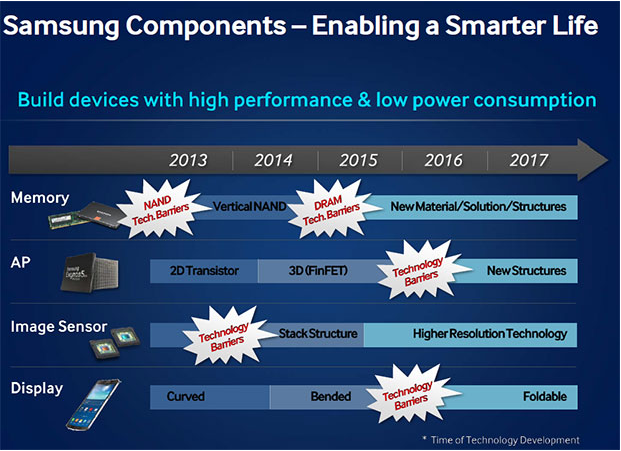 Just exactly what those roadblocks could be isn't detailed, but there is the not insignificant problem that foldable displays don't necessarily mean foldable fondleslabs. To be able to roll up or fold up, your mobile device requires foldable and bendable batteries, processors, memory and other bits, not just flexible screens.
Still, if you can ignore the fact that Sammy's advert appears to have been made by a 13-year-old boy with a tenuous grip on reality and poor scripting skills, it's nice to see what could be just around the corner.
Samsung isn't the only firm interested in bendy mobes either, LG is about to launch the G Flex, another phone that has a curve to it like the Galaxy Round. Unlike the Round, it appears that the G Flex does actually bend - if you apply enough pressure. (Disclaimer: We have not tried this ourselves, so El Reg can take no responsibility for people who try this and smash their brand new shiny phone to smithereens or render it incapable of functioning.) Check out the slight give in the G Flex in the video. ®
Sponsored: Fast data protection ROI?