Microsoft CEO shortlist claim: It's just Elop, Bates, Mulally, Nadella and...
New Ballmer must navigate Nokia bump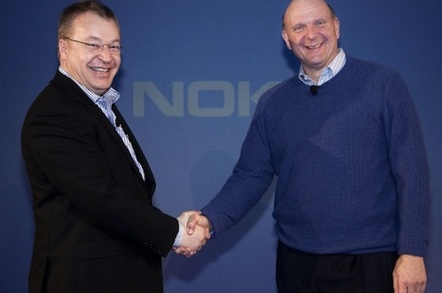 Comment The shortlist for Microsoft's next chief executive is apparently a bit shorter.
Five people are now in the frame to run the world's largest software company, it's believed. Ford Motor Company big cheese Alan Mulally and former Nokia CEO Stephen Elop are said to be the two leading outside candidates.
"At least" three internal candidates are also in the running, we're told by Reuters: cloud and enterprise group (formerly Server and Tools) president Satya Nadella and former Skype CEO Tony Bates. Reuters names just these two, not the third.
It's mostly a rehash of the same old names, some of which we've seen before (here and here).
The question is, if these men are seriously in the frame, what kind of company will Microsoft look like under them?
Let's not forget why Microsoft is looking for a new chief. Ballmer was happy to keep the CEO's seat warm until 2017, no matter how many misses he scored. It was investors who loosened his grip on the armrests of the chair, in the wake of a stunning own-goal on the Surface with a nearly $1bn product written down.
What is the problem Microsoft investors want zapped?
In three words: return on investment. Translated: strategies that mean new products and services, in growing markets, delivered at lower costs – ones which don't jeopardise the existing money-makers, but can still bring Microsoft back to the top spot.
Never mind all that, though, the biggest challenge will be absorbing around 30,000 Nokia employees into the Microsoft structure – if Microsoft's purchase of Nokia's mobile business goes ahead.
Microsoft has nearly 100,000 staffers. There's already overlap and middle managers and marketing types who add little value except to their own sense of self-importance. Never mind the additional overlap once Nokia comes on board.
Can the new Microsoft sustain 130,000 staff? Not without considerable cost.
Re-structuring is a must.
Also, Nokia takes Microsoft in a radical new direction: it inherits a phone fabrication business and becomes a phone channel supplier.
On Xbox and Surface, Microsoft left fabrication and distribution to third parties, with the company slapping its logo on the outside and stuffing Windows inside.
Who can manage this transition?
The fundamental dilemma for a tech company is: do you promote a techie or a businessperson as CEO?
Techies, theoretically, understand what their company is making and building. Business people run businesses, and to them it's all just product.
But it is looking like Microsoft needs more of a business pragmatist than a geek or technology evangelist.
Mulally is certainly a product and process man, hailed as a turnaround king. Before Ford, he served in various executive roles at aircraft manufacturer Boeing, which he joined in 1969.
Microsoft would be Mulally's third employer.
He has a masters in science in aeronautical and astronautical engineering from the University of Kansas and a masters in management from MIT.
He has earned accolades and awards at Boeing: in charge of the manufacturer's commercial airplanes team, he increased the group's financial performance, productivity and shareholder satisfaction; led development of the 777 in the 1990s; and worked on wind shear and effective training for pilots.
After Boeing, Mulally joined Ford at the tail end of 2006 and helped the troubled carmaker turn a corner. Ford was in its 10th year of declining market share when Mulally rocked up. He promptly restructured the business by closing plants and cutting staff, while opening new plants in China. In August of this year, Ford reported its best month for car sales since 2007 – the year after Mulally became CEO.
Mulally wouldn't be a red-blooded believer in Windows, like Ballmer, rather all business. And that's what Microsoft needs at the top.
Arguably, Mulally is the strongest on the shortlist.
However, Stephen Elop is closer to what Microsoft might like as a CEO – with some important qualifications.
Sponsored: Minds Mastering Machines - Call for papers now open