Ten top stories from Classic Doctor Who
The DVDs to watch to celebrate 50 years of Tardis travel
Pyramids of Mars

Can there be a British man in his 40s who doesn't recall shuddering with fear at this tale's massive Egyptian mummies stalking woods, breaking free of mantraps and crushing fear-filled poachers?
Pyramids of Mars went out under the name Stephen Harris, but it was actually written by Lewis Grieffer and then heavily rewritten - hence the pseudonym - by Script Editor Robert Holmes. It is, of course, a take on the old 'trapped in a building full of baddies' plot - Aliens, Die Hard, etc, etc, etc - but here skilfully combined with an ancient god buried beneath under the sands of Egypt and eager to be free.
This being Doctor Who, of course the god is an alien, his mummies robots, and his hold on Marcus Scarman, the Egyptologist who uncovers his 'tomb', mental not magic.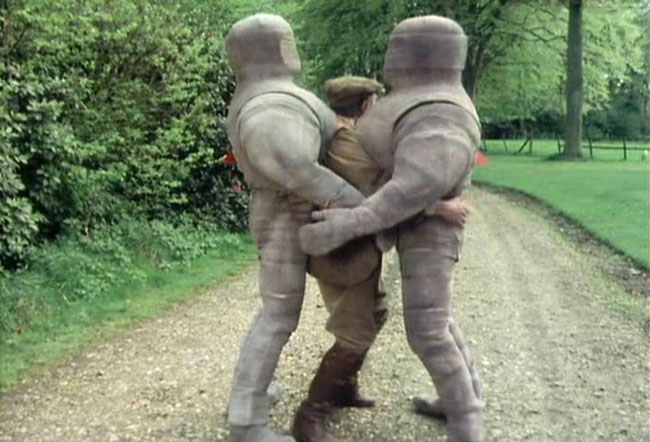 I want my mummy! How Doctor Who deals with poachers
Source: BBC
Scarman is sent back to Edwardian England to hasten his master's release from bondage, and a claustrophobic setting. His gaff's grounds are isolated within a force field, creating a claustrophobic atmosphere of impending doom. Holmes helps it along with a small cast of well-drawn characters who have lives that extend into the story, though none survive beyond it. You care as they get bumped off: wrinkly old Collins the butler; Dr Warlock, Scarman's worried chum; Laurence Scarman, the Egyptologist's younger brother and a budding radio-astronomer - all bumped off on the orders of the silky voiced Sutekh the Destroyer.
Hats off to actor Gabriel Woolf: never was a Doctor Who villain more chillingly voiced than Sutekh. He never rages, never yells; his anger is always tightly controlled, cracking through the surface only when he realises he isn't going to break free after all. Woolf even gives Sutekh a small, cautious frisson of joy when it looks like he might be about to escape his centuries of imprisonment.
It's Holmes' characterisation, brought alive by some fine acting, that really makes this story. Apart from a few duff shots - the Doctor sees the robot mummies before the script says he supposed to have, for instance - and an effects man's hand famously slipping into shot, it's a well directed piece too.
Tom Baker's era doesn't get much better, and many would argue neither does the rest of the show's history.
The War Games

Ten episodes long, there are moments when, watching The War Games, you feel you've been pressed and sent to boot camp yourself. Fortunately, there aren't may such moments as, by and large, this story cracks on at a decent pace - which isn't bad for a story that started out much shorter and had to be extended when another script fell through.
That The War Games works is down to a strong script from Terrance Dicks and Malcolm Hulke, writers who could always be relied on to come up with a solid adventure story. This is first and foremost an entertaining romp. David Maloney was one of Doctor Who's most consistently good and imaginative directors - he did Genesis of the Daleks - and it shows here in its evocation of World War I trench warfare and the mysterious aliens who appear to be running the show.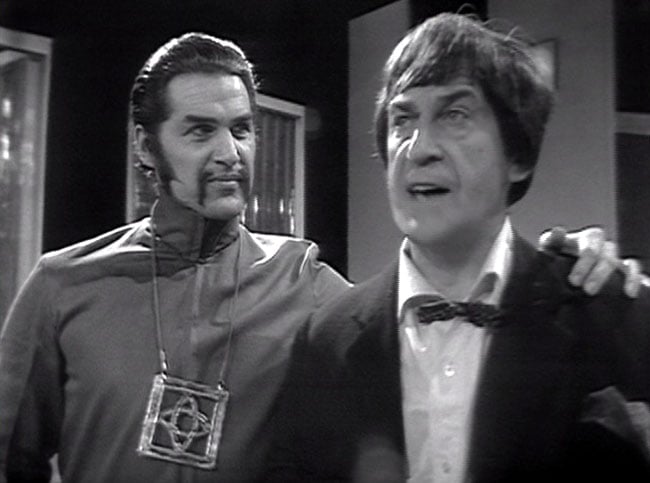 Masterly: the War Chief and the Doctor
Source: BBC
The story builds up the mystery - are we where we think we are? - through the first few episodes, then lets the Doctor get on with figuring out how to deal with it. We're given plenty of clues as to the origins of the aliens' ally, the War Chief, and his Sidrat device, but not once do Dicks or Hulke insult our intelligence by spelling it out.
Of course, there's padding, especially around the middle, but the story builds to its conclusion - and with it the introduction of a race we're now familiar with but had never heard or conceived of up to that point: the Time Lords. Along the way we get some surreal technology so advanced it looks like magic - eye glasses and monocles as hypnosis devices, anyone? - and some very funky 1960s interior decor.
The War Games was the final story of Patrick Troughton's era and its a perfect showcase for the talent that made him such a good Doctor and consequently the prototype for so many of the actors that followed him. It takes an actor of Troughton's calibre to build a convincing character on just two facial expressions: a scowl and an open-faced smile. The Doctor's attempt to hoodwink the governor of a military prison with nothing but bolshie bravado is a joy to watch.
Bubbling Under
With 155-odd stories from Doctor Who's first 30 years to choose from, it was tough selecting the best ten. Yes, there's a lot of tosh, but inevitably some favourites had to be dropped. Here's list of the ones that almost made the cut: The Tenth Planet, The Faceless Ones, The Ice Warriors, The Web of Fear, Terror of the Autons, Day of the Daleks, The Sea Devils, The Three Doctors, Carnival of Monsters, The Green Death, The Time Warrior, The Sontaran Experiment, Terror of the Zygons, Planet of Evil, The Brain of Morbius, The Hand of Fear, The Deadly Assassin, The Face of Evil, The Talons Of Weng-Chiang, Horror of Fang Rock, Image of the Fendahl, Warriors' Gate, The Keeper of Traken, The Visitation, Kinda, Earthshock, The Five Doctors, Ghost Light.
Sponsored: Minds Mastering Machines - Call for papers now open