Ten top stories from Classic Doctor Who
The DVDs to watch to celebrate 50 years of Tardis travel
Inferno

Famously described by its director, the late Douglas Camfield, as "Doctor Who's first nightmare", Inferno is indeed a dark tale, written by Don Houghton but given its real power by Camfield's vision.
Inferno starts off like almost every other Jon Pertwee story of the period: UNIT is overseeing a secret government project led by a arrogant, egocentric boffin. This time, it's all about drilling through the Earth's crust to expose a powerful new energy source, but it's not long before it's pumping out an acute mutagenic substance - green slime, natch - that sends those infected on murderous rampages.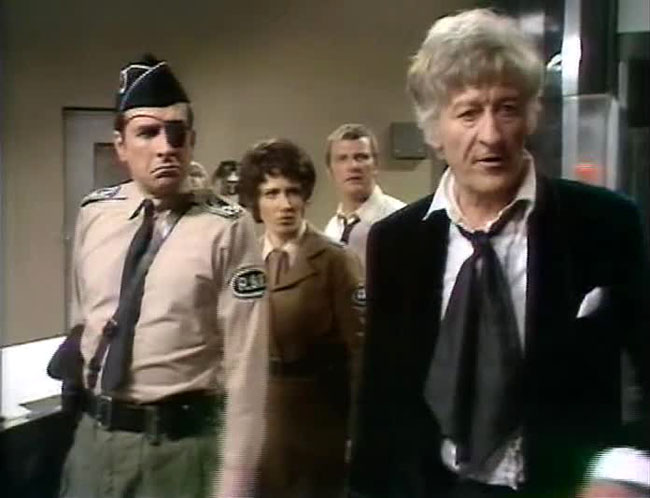 Mirror world: the Doctor encounters alternative Unit personnel
Source: BBC
The Doctor tries to find out what's going on, but he's really keener to use the facility's reactor for his own ends: getting the Tardis working. Fling him away from our Earth is does, but into a parallel universe where Britain has become a twisted totalitarian reflection of the real world. Here, the project's leader, Professor Stahlman, has got closer to his goal, and the Doctor gets to see the outcome, though not before he's beaten up under interrogation by the fascist forces.
Penetrating the Earth's crust triggers a global volcanic catastrophe, and the Earth dies "screaming out its rage". Decency and self-sacrifice hasn't entirely died out, however, and the Doctor is able to escape the planetwide conflagration to prevent its repetition in his own universe.
How do you convincingly portray the end of the world on a 1970s Doctor Who budget? You can't rely on special effects, so Camfield used loud sounds, a red lens filter and canny shots of smouldering extras huddled in ruins awaiting death by lava like so many of Pompeii's victims. And just kept the tensions building up and up past the point where you don't need to see what's happening, you're imagination is doing all the work.
It's rare for Doctor Who to deal with disaster so intelligently, sensitively and imaginatively. Just ignore the bad monster make up, OK?
The Robot of Death

During the Trial of a Time Lord season, the Doctor Who production team tried to do a take on Murder on the Orient Express. It was called Terror of the Vervoids and it was, to put in a word of four letters, crap. They should have looked back at Chris Boucher's 1977 story The Robots of Death. It's the same notion - isolated crew get bumped off one by one, Doctor immediately suspected but sorts it out in the end - but carried off with far more aplomb.
Partly that's the result of Boucher's well plotted and nicely penned script, but it owes as much to the "creepy mechanical men" - the titular robots. Their design sells the story: these are not clunky, prosaic mechanisms but aesthetically beautiful creations that, but for their lack of facial movement and their near-silent motion, almost appear to be organic beings. They're not, of course, and that allows the Doctor to talk about body language and non-verbal human communication years before computer graphics people began talking about the "uncanny valley" - the point at a representation of a human becomes so real it's unreal.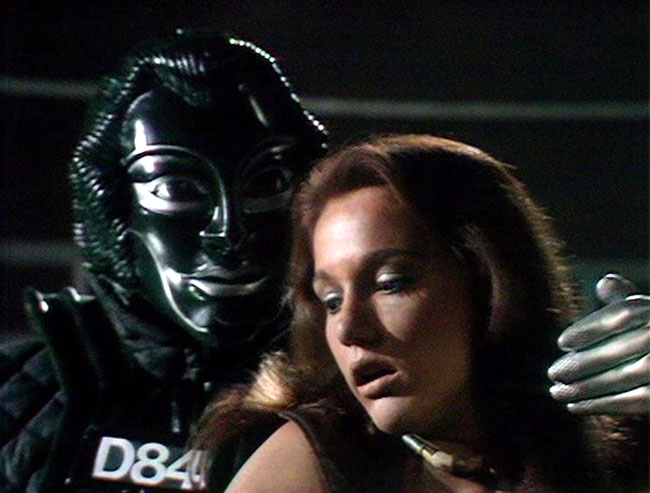 D84 and Leela: great companions, both
Source: BBC
The title is no giveaway: we get to see how lethal the robots are almost at the start of the story. It's hard to beat the corrupted robots' glowing red eyes - fizzing like snow on an old, untuned telly - for creepiness, especially when their first victim's dying scream echoes around the corridors of the sandminer. The Doctor, of course, lands right in the thick of things: the miner is about to scoop minerals out of a 1000mph sandstorm.
There are flaws: the robots' silver-sprayed Marigold washing-up gloves. Taren Capel, human-raised-by-robots who's behind the deaths is your stereotypical shouting loon, and initially appears masked solely to baffle the viewer not the robot he's about to subvert. The Doctor gets unappealing snide at times. There's some iffy acting - Tania Rogers as Zilda - but Russell Hunter as Uvanov, Pamela Salem as Toos and David Collings as Poul more than compensate.
Special word has to go to Gregory de Polnay as robot secret agent D84. He's masquerading as a D-class 'droid - "'D' for dumb; can't talk," Uvanov tells Leela. But D84 speaks to the Doctor with intelligence and pathos. He's is one of the great companions who never were, and would have worth a thousand K9s.
Sponsored: Minds Mastering Machines - Call for papers now open