If it wasn't on Twitter, there's NO point talking to us: One in 10 Americans confess
Facebookers not as young, educated, mobile, affluent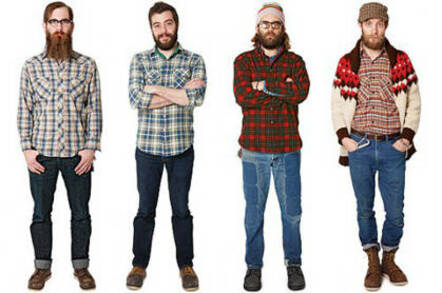 According to a new study, of the 16 per cent of US adults who use Twitter, half get news from the microblogging site that's preparing for an IPO, expected this Thursday, that should set its value at up to $13.6 billion.
"News", in the context of the survey conducted by the Pew Research Center in collaboration with the Knight Foundation, doesn't mean what your main squeeze had for lunch or the antics of your daughter's new puppy, but rather "information about events and issues that involve more than just your friends or family."
"Twitter news consumers stand out for being younger and more educated than both the population overall and Facebook news consumers," the Pew Research Center reports.
Specifically, 45 per cent of Twitter users who "ever" use it to keep up with the news are 18 to 29 years old, while only 34 per cent of Facebookers consuming news are in that age group so dear to advertisers.
Interestingly, an Associated Press-CNBC poll released Monday discovered that 52 per cent of Americans ages 18 to 34 are of the opinion that investing in Twitter's stock is not a good idea. Among US folks of all ages, 36 percent say the stock would be a good investment, well below the 51 per cent who felt that way about Facebook's stock before its troubled IPO in May 2012.
Once burned, twice shy, it appears.
In addition, 40 per cent of those US folks consuming newsy tweets have a bachelor's degree or higher, while only 30 per cent of Facebook news consumers are as well-educated.
Twitter news hounds are also far more mobile than their Facebook fellows, with 85 per cent of them getting news "at least sometimes" on mobile devices compared with 64 per cent of those who use Facebook.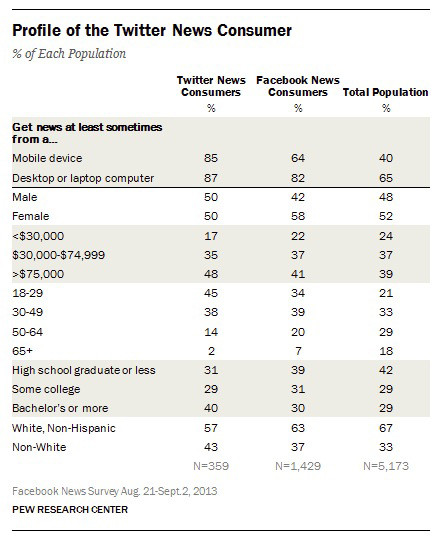 If you tweet and you're over 65 years old, count yourself a rara avis
A separate Pew Research Center analysis of Twitter conversations focused on the content of those conversations revealed "three common characteristics: much of what gets posted centers on passing along breaking news; sentiments shift considerably over time; and however passionate, the conversations do not necessarily track with public opinion."
To study that content, Pew used software developed by the self-described "social media analysis and Big Data analytics platform" Crimson Hexagon to study how tweeters responded to 10 major news events that occurred between May 2011 and October 2013.
Among the findings of that study was that during the two weeks following the March 2013 US Supreme Court hearing on same-sex marriage, 55 per cent of the twitterati were opposed to marriage equality with 32 per cent in favor. In a month, however, that number opposed had dwindled to less than half the original percentage – 26 per cent – while the percentage of supporters had grown to 43 per cent.
Tweeters also can't be considered representative of the population at large. For example, after the Newton, Connecticut, school shootings in December 2012, 64 per cent of Twitter conversations supported stricter gun controls. A broader Pew study conducted at the same time, however, found opinion to be more balanced, with 49 per cent calling for gun control and 42 per cent saying it was more important to protect gun-owners' rights.
Simply put, Twitter users who think beyond their own lives, consuming news and commenting upon news events, do not necessarily represent the average American, nor can they be lumped in with Facebook users when it comes to news consumption.
But they are younger, more mobile, more educated, and more affluent than Zuckerberg & Co.'s US cohort – and that should come as good news to those who are eyeing this Thursday's IPO. ®