Hero HTC phone takes a BULLET, saves shop worker's life mid-robbery
Mobe battery in doesn't-endanger-user shocker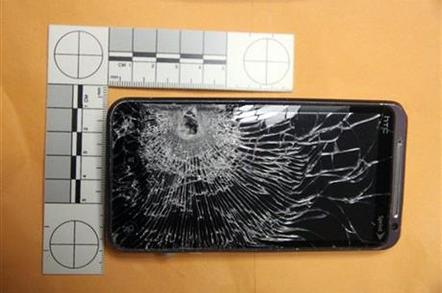 Pics A Florida convenience store clerk has had a lucky escape after a robber shot him in the chest, only to have the bullet stopped by a smartphone in his pocket.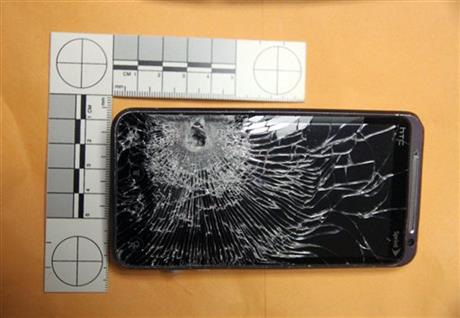 Don't try this at home ... the plucky HTC handset
Lieutenant Scott Allen of Winter Gardens Police Department told The Register that the clerk's HTC mobe took the round after an attempted robbery at a corner shop at 4.45am on Monday.
"This is the first case we've seen of a phone stopping a bullet in this way," Allen said. "The bullet itself was a .22 or .25 caliber," he explained, added that while such bullets are small they are certainly capable of killing someone.
Associated Press reports that the attacker insisted that the clerk open the store's safe, but the employee was unable to do so. Another member of staff tried instead but when he too failed, the would-be robber fired a single shot and fled. The clerk, who suffered very minor injuries, didn't know the cellphone had saved his life until he tried to make a call.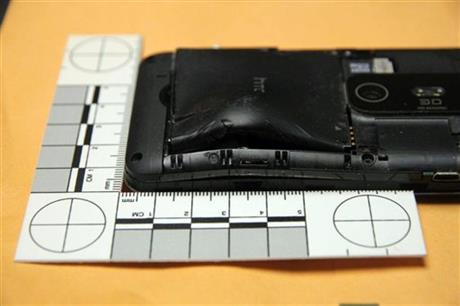 The shot HTC ... Battery bends but holds back the bullet
The internet being what it is, people have published video footage of themselves successfully shooting up HTC handsets. What appears to have saved the day in this case is that the bullet hit the HTC's battery, rather ploughing straight through its more fragile circuit boards.
Police are still hunting for the perpetrator and investigations into his identity are ongoing, Lt Allen said. ®