Z30: The classiest BlackBerry mobe ever ... and possibly the last
It's what the Z10 should have been last year - and it's aimed at grown ups
Hello? Is anyone there?
BlackBerry mobes have never excelled at calls – they were, at best, passable – but a new adaptive RF antenna technology acquired via Paratek, plus three noise-cancellation microphones and speakers, give a super experience.
Once or twice I failed to get an HD voice-quality call when I expected to. Paratek's antennas should also help in spots with poor reception. Rear stereo speakers ring out an alarm you can't sleep through; the quality of the sound system is outstanding.
I did find phone calls a little quiet on the main device speaker, though, and this needs to be remedied with a software update. The phone can use a high-quality "Natural Sound" codec to pipe chat audio between callers, but this is only available for BBM calls between Z30s. I wasn't able to test this feature.
At 170g, the Z30 isn't light: it's 40g heavier than the similarly sized Galaxy S4. Yet it is rather more comfortable to use, and that's due to the tapered back, which uses a material BlackBerry describes as a "glass fibre weave" – it's actually a very sturdy plastic with a non-slip texture that makes it as pleasant to hold as any five-inch-display smartphone today.
Beware, however, I fractured the back attempting to remove it as per the instructions. I recommend using a knife and very gently levering it up. It may seem strange to have a removable back cover yet no removable battery, however the logic is that it allows alternative cases to fit much more snugly – as demonstrated by BlackBerry's own leather flip case. This fully justifies BlackBerry's design decision, as the case adds very little to the device's profile. It also folds back snugly: too often we've seen a flip case fold back awkwardly, impairing a user's typing.
I expected a so-so display; at 720-by-1280 pixels, the Z30 has a lower density than the Z10's 768-by-1280-pixel 4.2in touchscreen. But, in fact, it looks superb, with a new kind of sub-pixel matrix layout as seen on the Galaxy Note 2.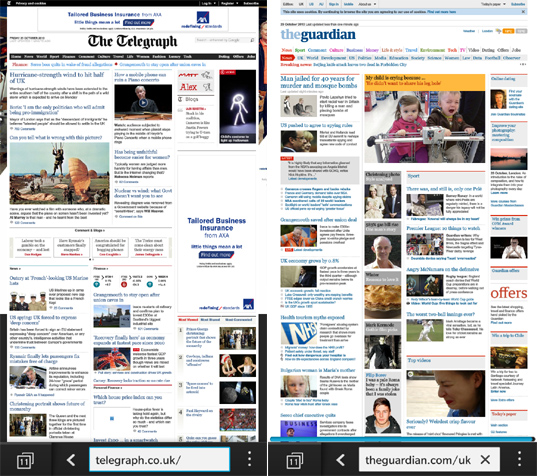 Browser views of two UK broadsheets ... albeit slightly illegible (click to enlarge)
BlackBerry OS 10 remains a mix of quite brilliant and practical ideas, and a few rough edges.
Its engineers went finger-gesture-crazy when they designed the user interface, and it isn't always successful. I warned at launch time that all the swiping could confuse the pants off some experienced BlackBerry users and this, in some cases, is what has happened.
The OS still requires too many swipes to perform some elementary tasks – such as stepping through your email message by message, for example. A clumsy new gesture has been introduced since BB OS 10 launched but it's no substitute for the missing forward and back arrows found in every other email reader.
Text selection was also fussy; this has improved in version 10.2, but could still do with more tweaks. I found it nigh on impossible to position the caret close to the left edge of the screen. The old trackpad and keyboard combination on classic BlackBerry handsets was simply so much faster for some tasks: for example, processing multiple messages at once. However, BB OS 10 is nippy and consistently free of lag throughout.
The operating system now supports USB on-the-go and Miracast, a Wi-Fi-based screen-sharing technology that lets you throw video from your handset to a compatible TV. It's ironic that these features are arriving just as BlackBerry withdraws from the consumer market.
The 8Mp camera module is essentially unchanged from the Z10, although it's much easier to share the photo you've just taken.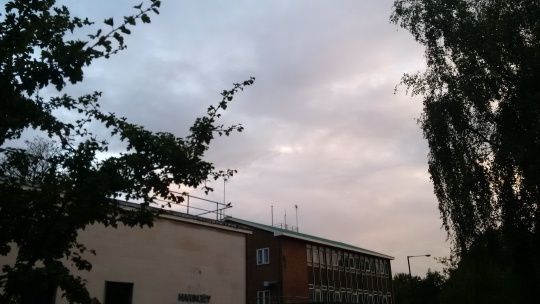 Sunset ... a test of the camera's low-light photography (click to enlarge)
Conclusions
The app choice for BlackBerry OS 10 remains the poorest of the major platforms: you're unlikely to ever get Netflix or Instagram on BB10.
This is alleviated somewhat by the system's ability to run Android apps. The performance of these non-native programs has improved considerably with the latest runtime, and it can work surprisingly well when no native application or decent mobile website is available. I ran Android's Netflix, SkyDrive, One Note and Amazon apps without any problems.
There's an overhead of a few seconds while the Android runtime is loaded, and being a Java engine, it eats into the battery life just as you'd expect a power-guzzling lump of software to do. But its mere presence puts BB OS 10 into contention.
So who is this phone for?
Well, apparently not consumers. BlackBerry says it will no longer compete in the consumer market where BlackBerry OS 10 gadgets are expensive and unattractive; instead it'll target enterprises and tech-savvy punters, aka "prosumers". Good riddance to all that consumer stuff: the pitiful BlackBerry app store BlackBerry World should improve with a new focus on business-grade software, and the resources squandered on promoting Alicia Keys (why?) can be more wisely deployed by BlackBerry.
Arguably, this is what the company should have done when it unveiled BB OS 10, and the Z30 should have been the flagship smartphone at the very first launch.
Unlike the Z10, everything about the Z30 feels like premium quality. I found the Z30 to be excellent at things I need from a phone or personal communicator: great voice calls and battery life, strong messaging – particularly the instant retrieval of years-old messages and the easy access to attachments – and a very decent web browser. I'll take all these over Apple Retina display scrolling or Instagram. But your mileage may vary.
I have no doubt that if this smartphone emerged from a sexy startup, the press would be raving: it's slick and inventive and very focused on communication and productivity. ®
Sponsored: Minds Mastering Machines - Call for papers now open

Z30: The classiest BlackBerry mobe ever ... and possibly the last
The most powerful, classiest BlackBerry ever - and it's aimed at grown ups
Price:
From $600 unlocked RRP