Mac OS X Mavericks 'upgrade' ruins iWorks
We're not all using tablets, you know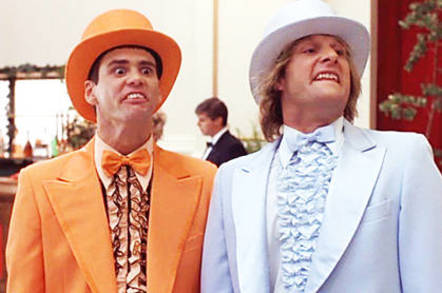 Apple has massively upset its Mac productive app users by dumbing down Pages, Numbers and Keynote to match fondleslab versions.
When the Mac OS Mavericks upgrade came on line, an upgrade of the iWork suite to v4.3 of the Pages (word processing), Numbers (spreadsheet) and Keynote (presentation) applications followed. After the upgrade the previous versions were parked in an iWork 09 folder on users' Macs.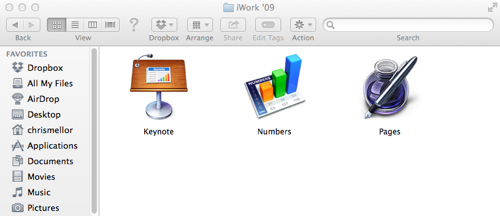 iWork 09 folder on Macs
The new versions have prettier icons:

Post-Mavericks iWork 4.3 icons
That's about the only advantage. Generally usability on all three apps now sucks.
Numbers used to have drop down menus and an Inspector facility to format spreadsheet cells and charts. That's replaced by a large right-hand sidebar which obscures a lot of the spreadsheet you are working on. It used to be possible to have a cell filled with one of 120 colours. Now there are only 48: 36 standard, 6 graded and 6 image - a big reduction in choice.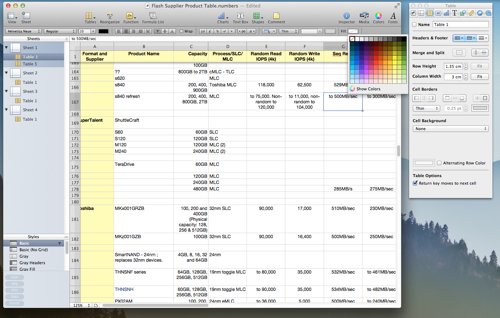 Screenshot from iWork 09 Numbers showing inspector and colours
Charting operations have changed and become clunky, with added clicks needed to accomplish what one click and drag operation would have done.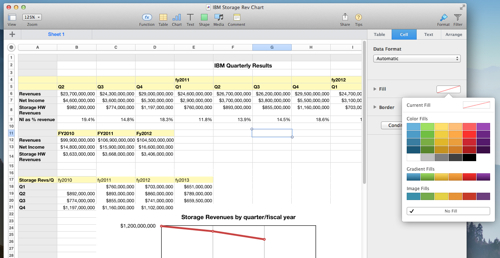 iWork Mavericks Numbers v4.3 equivalent
Pages lost a lot of functionality, and many scripts no longer worked. Here's user henryspace writing the first critical post on the Apple Support Community site, entitled " Why does Apple get rid of so many useful features in new pages?":
Selecting non-contiguous text gone
Outline view appears gone
Customizable Toolbar is gone
Many templates appear gone 5. Captured pages gone
Reorganize pages by dragging gone
Duplicate pages gone
Subscript/superscript buttons gone
Select all instances of a Style is gone
Retain zoom level of document gone
Facing pages gone
That was written on October 23. Five days later there are fifteen pages of posts on the topic, virtually all saying the same thing; Apple has dumbed down the Pages software, removing functionality, to increase the similarity between iPad and Mac versions of the software, and it is a massive mistake, royally pissing off Mac users who are reverting to older, iWork 09 versions of the software.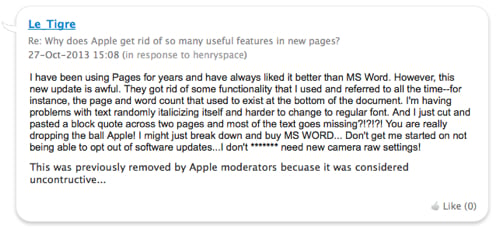 Sample Pages user post
With Keynote the same user revolt is happening. Here's a sample from the first post by Derick Fay on October 23:
Aperture photos no longer appear in Media Library
Format bar is gone
Perspective animation is missing
Links to Numbers file no longer work
Presenter Display options are missing : https://discussions.apple.com/thread/5470350?tstart=0
Quicktime export no longer skips skipped slides or allows manual advance
Links to other slideshows no longer work
Now there are seven pages full of such posts.
The general view is that the post-Mavericks v4.3 iWork software suite upgrade has been a disaster for Mac users and the Cupertino fruit farm has f**ked up.
Once the new v4.3 apps open a file that file can only be subsequently opened by the new software. Fortunately it can be exported in iWork 09 format and then opened by the old, fully-working, iWork 09 software.
Apple made the v3 iWork applications free and many users are saying this means Apple no longer cares about them.
Many users' recommendations are to throw away the v4.43 Pages, Numbers and Keynote software and revert to the iWork 09 versions. Put feedback into Apple via the App Store feedback facility and give the products a 1-star review status, the lowest. Do this by selecting the new products individually in the App Store, and scrolling down their page to the Write a Review section.
We've contacted Apple by phone and mail but have not yet received a response. ®
Sponsored: Minds Mastering Machines - Call for papers now open