Pimp my office: 10 cubicle comforts
Where little things mean so much
Plantronics Blackwire C710M

When it comes to desktop audio and video office tech, companies are falling over themselves to deliver equipment optimised for use with popular communications systems. Flavour of the month appears to be Microsoft's Lync and, like Logitech, Plantronics has plenty of devices that talk the talk with Redmond's latest. It's just an endorsement of sorts, as buying a Lync savvy device doesn't mean it will fail to function with Google Hangouts and the like.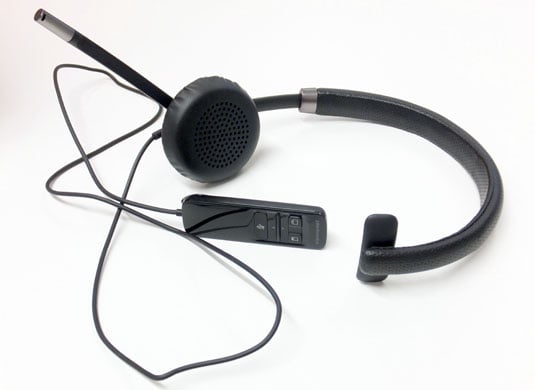 The remote has a battery and Bluetooth, but for desktop use is typically connected to a micro USB cable
For calls, a simple single earpiece and mic setup is all you really need and I was initially tempted by the Blackwire C710 USB headset, as I find that peripheral battery gear in the workplace has a tendency to die at inopportune moments – the Bluetooth mouse being the biggest sinner here. However, the C710 has the best of both worlds, as its clip on controller unit – with call mute, volume and mode buttons – also features a rechargeable battery to power it for mobile use.
Sure you can simply plug it into a USB port on a Mac or PC, but you can also switch from desktop to mobile mode and go walkies with it linked up to a handset via Bluetooth. Another nice touch is it senses when you pick up the headset to answer a call and to hang up when you take it off.
Sonically, the spec reveals the frequency response is merely 100Hz to 8kHz for the noise cancelling mic which has been tailored to play nice with voices and sounds pleasant enough. The headset can be cranked up quite loud too but there's no booming bass nor a scintillating top end, just a fairly modest response.
I'll admit that I did find the headband a little tight to begin with though, but after a little adjustment, I'd either found a sweetspot or just became used to it. Still, for those with big bonces, it might be a problem and the wireless Voyager Legend UC might be a better bet, but then you'll have an in-ear system that relies solely on battery and Bluetooth. You pays yer money...
StarTech USB3 Dock

Undoubtedly, there exists a chosen few in offices who are kitted out with an Apple MacBook of some description attached to a 27in Thunderbolt display for a bevvy of interfacing options. Naturally, such niceties are not cheap and even Belkin's Thunderbolt Express dock is a pricey alternative for those in need of additional ports for a MacBook Air.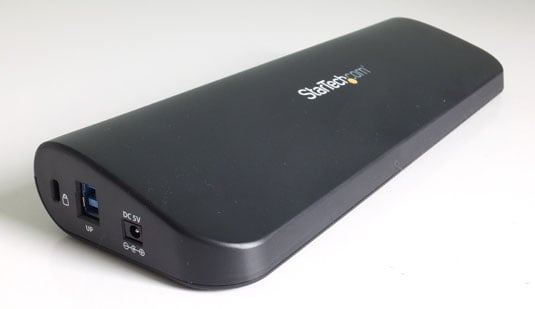 USB 3.0 but it has some basic hub functionality with USB 2.0 even on a Mac
PC users, especially those with Ultrabooks, are finding that ports they took for granted are now missing. It's something that StarTech's docking station sets out to remedy. This USB 3.0 box of essential interfacing features Gigabit Ethernet, audio in/out, two additional USB 3.0 ports and three display connectivity options: HDMI and DVI-D and VGA. You can even hook up two monitors from this selection configured either as HDMI and DVI-D or HDMI and VGA.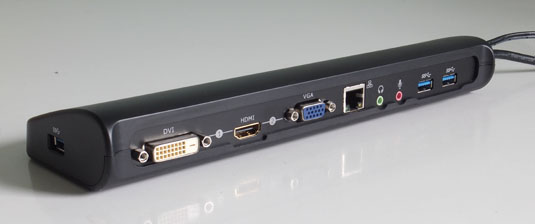 Using the DisplayLink manager utility for PC, additional monitors can be configured using the dock
To get started, you need to instal the DisplayLink manager software which enables the video ports for additional screens and features resolution and orientation functions. I tried it out with the BBC iPlayer on a second monitor, with the dock audio output going into powered speakers, all streaming from its Ethernet connection. On the host PC's main screen this all worked smoothly but Top Gear was a tad jerky on the second display attacted to the dock. This probably won't be an issue for the majority of PowerPoint presentations though and, thankfully, the audio was in sync.
Tests with an older MacBook Pro with just USB 2.0 ports successfully accessed the dock's USB ports and audio output interfacing, but not the audio input. So in desperate times the Startech USB3SDOCKHDV dock could be hauled in for hub duties. Unsurprisingly, the Ethernet and monitor options didn't show up.
Ideal for hot-desking or just getting notebooks displays onto the boardroom big screen this all-things-to-all-men device is certainly versatile and after a bit of driver handshaking will get visitor laptops talking over Ethernet so you don't have to give out the company Wi-Fi details to every waif and stray that pitches up at the office. ®
Sponsored: Minds Mastering Machines - Call for papers now open