Fearless slayer of lawsuit-lovin' patent trolls steps forward from shadows
New law drafted to tackle court battles sucking millions of dollars from US bizes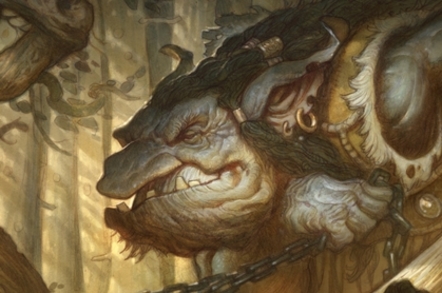 After years of inaction on patent law, a new bill has been introduced to the House of Representatives that could curb the scourge of patent trolls that is costing American businesses billions every year.
The Innovation Act [PDF, summary] was put forward by House Judiciary Committee chairman Bob Goodlatte (R-VA). The draft law attempts to limit patent claims to a device manufacturer of a technology rather thab the actual users; make litigants pay full costs if their lawsuits are unsuccessful; and require plaintiffs to demonstrate much higher standards of evidence before a case can begin and to disclose the original owner of a contested patent.
"Abusive patent litigation is a drag on our economy," said Goodlatte in a statement. "Everyone from independent inventors, to start-ups, to mid and large sized businesses face this constant threat."
"The tens of billions of dollars spent on settlements and litigation expenses associated with abusive patent suits represent truly wasted capital – wasted capital that could have been used to create new jobs, fund R&D, and create new innovations and technologies."
The legislation is co-sponsored by politicians on both sides of the political spectrum, giving it a better than average chance of getting passed. One of the co-sponsors, Representative Jason Chaffetz (R-UT), previously introduced the anti-troll SHIELD Act earlier this year, but will now concentrate on the new legislation.
Gary Shapiro, president of the Consumer Electronics Association, said his organization "applauded" the introduction of the Innovation Act. "Frivolous patent litigation is a massive problem and it is getting worse," he said. "This bill contains smart and targeted reforms that will help promote continued innovation in the U.S. and make life difficult for those who seek to abuse our patent system."
News of the legislative move was also welcomed by the Software & Information Industry Association, which called it a serious attempt to solve the problem. The EFF is also pleased with the bill, although it noted that it would have liked stronger consumer protections and higher costs for frivolous patent lawsuits. But it thanked the trolls for making patent legislation such a priority.
"The trolls have done all the hard work for us," said Julie Samuels, senior staff attorney and holder of The Mark Cuban Chair to Eliminate Stupid Patents at the EFF in a statement. "They targeted app developers for using generally available technology. They sued small city governments for using bus tracking software. They went after businesses for using scan-to-email technology and the kind of WiFi routers you would buy off the shelf at Best Buy."
"Thank you, trolls. You didn't only get our attention, you got the attention of Rep. Goodlatte, along with other congressional leaders, the FTC, and even the President. We're going to be working hard to make sure that not only is your 15 minutes of fame over, but so too is your entire business model."
Meanwhile Intellectual Ventures, the patent holding company set up by former Microsoftie Nathan Myhrvold, has been gearing up for a fight on the issue. USA Today reports Intellectual Ventures, which doesn't engaging in gratuitous trolling but makes its money from licensing fees, has doubled its lobbying spending in the last three months.
"One of the things we want to do is make sure we are educating lawmakers on what [Intellectual Ventures] is and how the secondary market for patents works," Russell Merbeth, its chief policy counsel. "Our overarching concern is ... to make sure that the patent system is not weakened as a result of any of the actions or activities undertaken by the executive branch or Congress." ®
Sponsored: Minds Mastering Machines - Call for papers now open