Big Blue's storage performance badly bitten by pack of mid-range canines
Who will rid us of these mangy digital curs?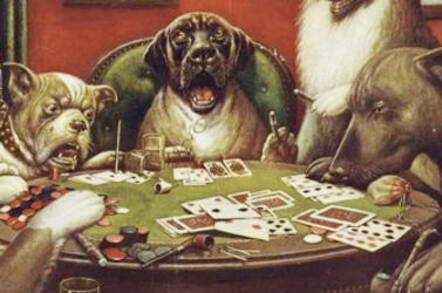 IBM's storage business is shrinking and has been doing so for about four years. The third 2013 quarter's results confirm the trend, with an 11 per cent year-on-year decline to $695.5 million.
This shows that action needs to be taken to prevent IBM falling out of the leading storage supplier ranks.
A chart of its recent fiscal years' quarterly results for the storage revenue number shows the picture: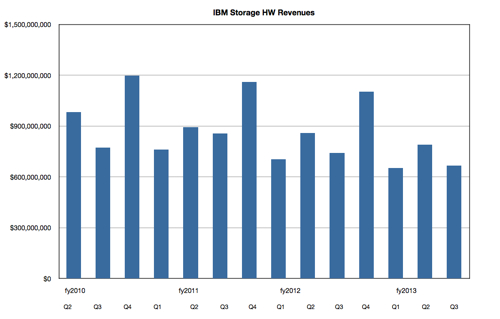 The chart shows a discernible downward trend if we look at individual quarters in different financial years. We can graph this differently to pull out the trend better, charting a quarter's storage numbers across a sequence of fiscal years. This is what we get: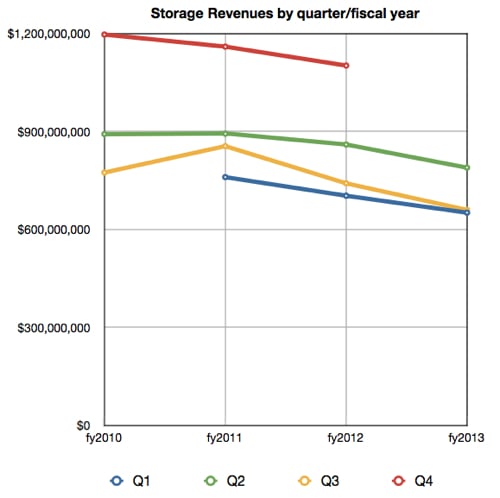 IBM pointed to disappointments in China, one of its supposedly growth markets, to help explain the third quarter's revenue shortfall. Our chart shows that there is a more longstanding issue here.
Talking about the third quarter in prepared remarks, IBM's head finance guy Mark Loughridge said:
Storage hardware revenue was down 10 per cent at constant currency. The decline was driven by the growth markets. In the major markets, Storage revenue was up. Our Storwize product again delivered double-digit growth, and we also continued to grow our flash solutions. These were offset by declines in our legacy OEM mid-range offerings and softness in the high-end.

Pure Systems continues to gain momentum. In the major markets, we grew more than 30 percent sequentially. Globally, we shipped over 2000 systems in third quarter, with over 8,000 total shipments since announcement.
IBM's Ginni Rometty, chairman, president and CEO, said:
"We are taking action to improve execution in our growth markets unit and in the elements of our hardware businesses that are under performing."
Are heads gonna roll?
What's the betting that the fourth quarter number will be down as well? Apart from Storwize IBM appears to have no storage stars in the mid-range and entry-level; XIV not rescuing the ship.
The flash - TMS - products must be a small percentage of the overall storage number and need to grow hugely before they can substantially affect that.
IBM needs a substantial refresh of its "legacy OEM mid-range offerings" and also needs to combat the "softness in the high-end," meaning DS8000. Contrast this with EMC (VMAX/VNX) and HDS/HP (VSP/HUS and OEM'ed Hitachi VSP/3PAR) and NetApp and IBM's turnaround task is clear. It's time for a storage pivot or reset Big Blue. We say: Boost the Storwize and XIV businesses and migrate away from the mid-range canines in your storage product pack. ®
Sponsored: Minds Mastering Machines - Call for papers now open