Windows 8.1: A bit square, sure, but WAIT! It has a Start button
New features just underline the sins of omission in Windows 8.0
"Error 0x80040A41: No error description available" - shoot the messenger
Tablet mode is not a complete dead loss. Mail is usable now, the Weather app is still great, Internet Explorer mostly works fine for browsing, and some third-party apps like Adobe Photoshop Express are nicely done. The general selection in the Store though remains poor, much worse than that for Windows Phone.
I also have doubts about the design principles of Windows Store apps. The blocky SkyDrive app, for example, is less usable, with its blocky appearance and endless horizontal scrolling, than the Explorer view on the desktop. This means you tend to use the desktop even when a first-party Store app is available.
Another concern is that Microsoft still has not gone far enough to foster a culture of usability. This hit me with force when I encountered a SkyDrive error while working with a poor internet connection on a train. You cannot blame SkyDrive for struggling in those circumstances; but you can blame whoever decided to throw up a message saying "Error 0x80040A41: No error description available". Users should not see this kind of message, and there is still too much of it in Windows, which sends business users straight to their support desks and home users straight to their iPads.
The SkyDrive integration, which makes cloud storage the default for saving documents, is a key change towards making Windows more like a Google Chromebook, where you could lose your device, buy a new one and get everything back just as it was on your old device, through the magic of the cloud. Many settings, including Internet Explorer favourites and many passwords, also roam via SkyDrive.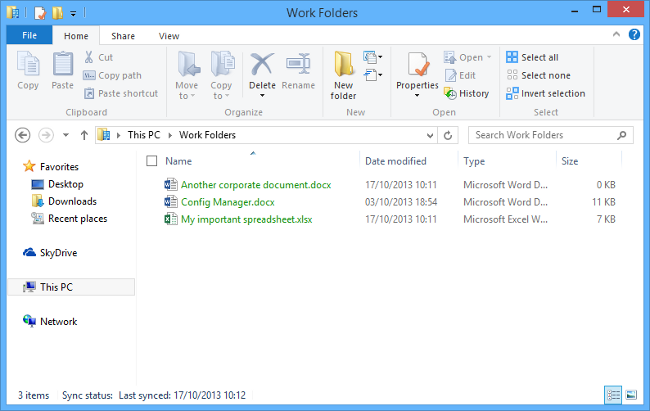 Work Folders synchronize with a shared folder on the server, and can be wiped by the system administrator
It is mostly good, but this integration can also cause problems. The way document synchronisation works is an amalgam of direct chatter to the online service and offline storage with background sync, and the end result is not as smooth as it should be. A dreadful thing called the Office Upload Center pops up regularly, in my experience, to inform of some problem uploading a document.
Another oddity is in network connections. When you connect to a network, Windows offers public or private profiles, with the public profile hiding your PC and any shared folders from others on the network. How do you change a network connection from private to public? In Windows 8.0 you right-click, or press and hold, a network connection to pop up a menu including "Turn sharing on or off." In Windows 8.1, that has gone.
You are meant to go to Charms (the right-hand vertical menu), Settings, Change PC Settings, then Network, then click or tap the network connection; though in my experience the sharing option does not turn up here either. In any case, should not this be part of the Network and Sharing Center on the desktop, where the profile is shown but is read-only? These are minor points in themselves, but show how bewildering Windows still can be.
The question of how Microsoft will fare in the wider tablet market remains open. The signs are that it will eventually unify Windows Phone and Windows RT and offer developers a single mobile platform, but it is taking too long. Business-friendly features and the strength of Microsoft Office ensure some role for Windows 8.1 tablets, but price versus Android devices, the weak app ecosystem, and usability flaws will hold it back among consumers.
Nevertheless, Windows 8.1 is a step forward and a worthwhile upgrade over Windows 7 even for those sticking with desktop, keyboard and mouse. ®
Sponsored: Minds Mastering Machines - Call for papers now open