Apple's top bean counter: New spaceship HQ won't emit 'one atom of carbon'
Cupertino's latest torus attraction to be 'best office building ever built'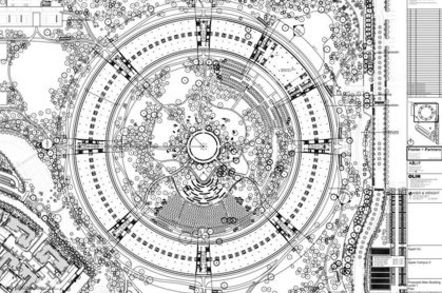 Vid Apple CFO Peter Oppenheimer made a rare press-conference appearance after the Cupertino city council approved Apple Campus 2, extolling the green credentials of his company's 2.8m sq foot, $5bn "spaceship."
"We're going to build the best office building ever built in the world," Oppenheimer modestly told the lightly attended event, carefully answering each and every question with what appeared to be well-prepared responses, oft-peppered with buzzterms such as "innovate", "collaborate", "team", and the like.
But it was when discussing the environmental aspects of Apple Campus 2 that Oppenheimer warmed to his task. "It will be the most environmentally friendly building of its size we think has ever been built and may ever be built," he said.
Seventy per cent of the electricty used by the complex will be created on-site through photovoltaics and fuel cells, he said, with the remaining 30 per cent provided by "green sources" in California.
"So there won't be one atom of carbon emitted into the environment as a result of our operating Apple Campus 2," Oppenheimer, seen speaking below, promised.
Apple CTO Peter Oppenheimer speaking at a Press Conference at the Cupertino City Council
Water use being being a highly contentious subject in a state with a large share of desert conditions, Oppenheimer was careful to touch upon that controvertial subject, promising that Apple will be "very, very efficient" with its use of water for landscaping.
"We're returning a 175-acre site to its natural state with native plants, trees, and other vegetation that will be great for the environment," he said. Native plants are a cause célèbre among California greens, with the San Francisco Bay Area widely overrun by invasive species.
Oppenheimer also sought to assure Cupertinians that Apple was in it for the long run, frequently repeating the phrase "for decades to come" in constructions such as, "It will be a place for the best team in the industry to innovate for decades to come."
He also channeled his boss Tim Cook in his repetition of the word "collaborative." In response to a question about the return on investment that such a pricey edifice will bring to investors, for example, he said, "The innovation that will come from the team, particularly in the collaborative environment that we're going to build, will be immeasurable."
Of course, no such event would be complete without a glance to the heavens and an invocation of the departed deity. "I think Steve would be very, very proud today," Oppenhiemer opined. ®
Sponsored: Minds Mastering Machines - Call for papers now open