HP cloud overlord backs UK distie Westcoast as it flogs its fluff to small biz
Big biz has the cloud fear, thunders vendor's chief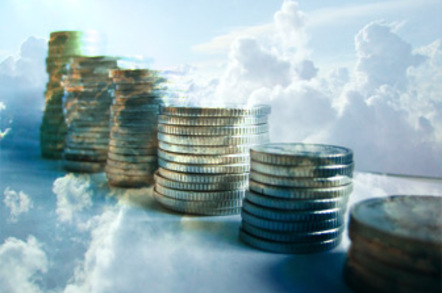 Small biz customers have been bitten by the cloud bug but large enterprises and government types are altogether less open to outsourcing IT or broadcasting their data into the electronic ether.
At least, that's the view from HP's cloud overlord Michael Clifford, who, unsurprisingly, is giving his backing to a fluffy white service aimed at SMEs that is being rolled out by Westcoast, an HP distie and now one of the vendor's small band of Cloud Agile Partners.
Clifford, who is UK and Ireland director of cloud at HP, said FTSE 100 companies and areas of government were keeping their IT on-premise and very gradually migrating workloads, but SMB adoption of the cloud has been more rapid.
"We know businesses want to have the Microsoft suite on demand, and taking steps to offer vanilla standard virtual machines and standard storage is about as advanced as the SME wants to go."
"Large enterprises have got assets they want to sweat, we are starting to see a behaviour where they are keen to move workload out to 3rd party organisations as they adapt and get confidence in the off-premise model," he added.
As for distributors moving into the cloud, they have two major options: to create an aggregation platform for vendor cloud services (which some resellers, including Insight, have also done); or to provide a hosted service which is the direction Westcoast has moved.
Westcoast has a "joint venture" with a data centre provider in Wales, that will host its cloudy wares. It refused to be drawn on the nature of that agreement, except to reveal it does not own or rent the IL3 accredited site.
The cloud is running on HP's Converged Infrastructure including the ProLiant BladeSystem c7000 containing Gen8 blade and rack servers, Ethernet modules and storage such as tape and disk.
Westcoast said it is launching its software-as-a-service offering first including Lync, Exchange and SharePoint but the plan is to follow that up soon with infrastructure-as-a-service
Phil LeBlond, Westcoast technical manager for the enterprise group, said a looming IaaS offer will provide punters with virtual machines.
"The roadmap will be very fluid because, based on our partner and customer feedback, we are not sure what other services people may need, " he told The Channel, adding it will likely look at PaaS and storage services too.
A cloud control panel will allow the reseller to "manage, support and deploy" cloud services and an automated billing service – Westcoast bills the reseller, not the user – includes reporting tools.
Around a thousand of the resellers on Westcoast's books are in the "right" place to flog the service "from day one" but the distributor also has a partner programme to roll out some training.
The Westcoast cloud is aimed at resellers who deal with small and medium sized customers, and who haven't got the financial clout to build their own hosting biz – or who don't want to work direct with specialist cloud providers.
The jury is out among some resellers over whether tech delivered as-a-service is a viable channel business just yet. They know it is the future, but they're not so sure they can make money from it.
At the recent Canalys Channel Forum in Barcelona, CEO Steve Brazier said he "remains cautious about the cloud" with companies such as AWS selling IaaS below cost to gain market share.
"Amazon has proven that if it sells IaaS below cost it can get customers. It is losing money on this business and we think everyone in IaaS is losing money… they can't get a return on capital employed".
He said the growth of AWS had caused "panic" amongst industry titans including HP, IBM, Microsoft and even VMware, which this week launched its v-Cloud Hybrid Service.
As for clouds of the software variety, Brazier was equally critical, claiming that the software-as-a-service poster boy Salesforce.com, despite its "brilliant marketing" was also losing cash, "as does almost everyone in the SaaS market".
But he did say cloud providers – many with excess capacity – have realised they need the channel to reach customers and that they "cannot sell direct."
This has led to channel programmes from Equinix, Colt, Rackspace and others. Brazier said: "You will have lots of choices but try to choose one that isn't going to go bankrupt".
Some SME resellers contacted by El Chan agreed they were struggling to work out how to make money from the cloud, and questioned why they would go to a distributor for cloud services rather than a cloud provider.
One of the people we spoke to, Mark Williams, MD at London-based solution provider Pensar, said he prefers to buy cloud services from cloud specialists.
"A lot of distributors are jumping on this bandwagon, they don't want to be left behind and think they need a cloud offering. We already have an established relationship with cloud providers and whether we jump ship to a distributor that we buy [on-premise] products from is debatable," he said.
We put this point of view to Westcoast. The response was that its cloud will only be sold via channel customers – resellers – and not direct, so there will be no conflict; one reason to bypass cloud vendors. ®
Sponsored: Minds Mastering Machines - Call for papers now open