A $17.3bn fine, you say? Samsung begs for five-year patent war truce
Chaebol furiously waves white flag as EU watchdog mulls peace treaty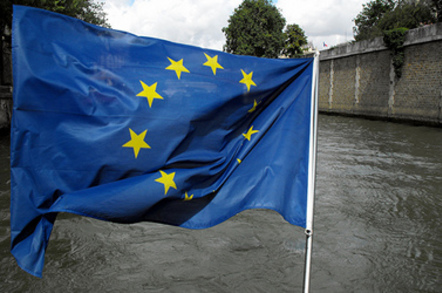 The European Commission has asked for comments on a proposed deal with Samsung that would see the South Koreans pledging not to take patent lawsuits to court for five years in exchange for avoiding a massive fine.
Europe's antitrust commissioner Joaquin Almunia said in September that he had received Samsung's plan to escape a $17.3bn penalty for trying to get competitors' products banned with patent lawsuits over standard essential patents (SEPs).
These SEPs cover core technologies that must be shared on reasonable terms. The EU took action after Samsung sued Apple in the UK, Germany, France, Italy, and the Netherlands, seeking a legal blockade on Cupertino's mobiles and fondleslabs.
Samsung has now offered a five-year moratorium on such lawsuits and instead will enter a 12-month negotiating period when companies seek to license from its SEP portfolio. If those negotiations fail, an independent arbitrator will set the terms - unless both parties prefer to go to court to fight it out.
If the EU accepts Samsung's offer it will enforce the deal under Article 9 of European antitrust regulations, and if the firm breaks the rules again it will be fined up to 10 per cent of its global turnover – which adds up to $17.86bn based on its latest figures. Crucially however, an Article 9 infringement doesn't represent an admission of guilt by the company, thus saving the South Korean firm face.
The EU stressed that this ruling applies only to Samsung and other companies are free to seek injunctions against competitors with SEP court cases. "The Commission attaches high importance to effective patent protection and an efficient patent system," it said in the formal proposal released on Thursday.
"Enforcing patents through injunctions can be perfectly legitimate. However, when patents are standard-essential, abuses must be prevented so that standard-setting works properly and consumers do not have to suffer negative consequences from the so-called patent wars. If we reach a good solution in this case, it will bring clarity to the industry," said Almunia in a statement.
He has now formally opened the recommendations up for comment from "interested parties" for the next month, with comments from competitors specially requested. You can be sure Apple, Google, and many others in the mobile industry have already got their thinking caps on. ®
Sponsored: Minds Mastering Machines - Call for papers now open