Dead Steve Jobs' Apple donut SPACESHIP HQ gets permission to land
Building work on dead Steve Jobs' latest nerve-center to start in 2014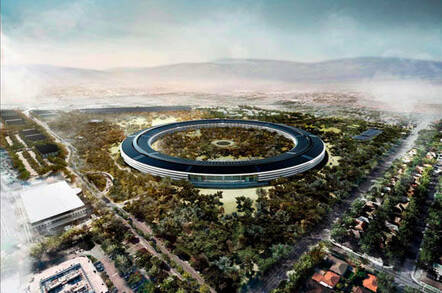 Apple's new spaceship-shaped headquarters has been given the go-ahead by Cupertino City Council.
The fruity firm was granted permission to build the mammoth 2.8 million square foot Apple Campus 2 at a council meeting on Tuesday night. Apart from some gripes about traffic, locals raised few major concerns about the gigantic eco-friendly "fruit loop" building and the forest that will be planted around it. Council members voted unanimously in favor of it.
According to reporters in the city, fanbois packed into the meeting's chambers to show their support; some Apple employees waved bright green posters emblazoned with the words "Cupertino for Apple Campus 2".
Perhaps due to the fact that Apple is by some way the small city's biggest employer, its plan to dock a super-sized glass ring in Cupertino met little opposition.
The scheme was one of Steve Jobs' pet projects and he appeared in person at a session with politicians to big up the scheme.
"Steve transformed Apple into one of the most innovative companies in the world and we understand the responsibilities that come from carrying his legacy forward with this project," Apple's head of real estate and facilities Dan Whisenhunt gushed at the council meeting on Tuesday night. "We've designed it with the same care and attention to detail as we do with all Apple products.
"Right here at this same podium two years ago. Steve shared his excitement about this campus and about creating a home where Apple grew up. Cupertino is synonymous with Apple. It's on every box of Apple products and we're immensely proud of that."
Cupertinians were delighted that Apple wanted to build its new HQ in their neighborhood.
"Don't bite the hand that feeds you," resident Carol Baker told the council at a public meeting before the vote.
"If we don't honor Apple with this building, they'll leave. There's no reason for them to stay here and be loyal to a community that doesn't support them. But if they left, it would be a disaster for the city."
Now the council has given Apple the go-ahead to build its fruit-loop nerve-center, the plan will next need to be signed off on November 15, although this further vote is just a matter of process. Apple will begin demolishing the buildings on the site at the end of the year and start building in 2014.
Snarl-ups will begin soon after, critics fear. Council member Mark Santoro said: "The project will certainly cause traffic issues, but I'm happy to hear Apple's going to work with us on solving these problems." ®
Sponsored: Minds Mastering Machines - Call for papers now open