Swap your old iPhone for a new one, Tim Cook tells British fanbois
US mobe exchange scheme coming to Blighty - reports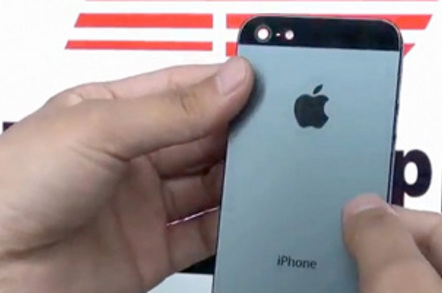 Apple is reportedly planning to export its US in-store iPhone exchange scheme to the UK and allow British fanbois to swap their old Jesus Phones for shiny new ones.
According to shadowy Cupertino sources quoted by rumour site 9to5Mac.com, Apple has begun training British staff in the difficult skills required to swap one phone for another.
If the report is true, Blighty will become the first country outside the US to offer the trade-in scheme.
Tim Cook is hoping to boost sales within Apple stores and hopes the exchange scheme will bring more fanbois into his shiny shops.
It is likely that BrightStar will handle the exchange programme in Britain, just at it oversaw the US scheme.
All fanbois will need to do if they are fed up of their mobe is bring it into an Apple store, where Cupertino's minions will check the condition of its screen and internal hardware, paying particular attention to any water damage. The value of the iPhone is then calculated and put onto a store card, allowing fanbois to spend their cash on whatever iTat they fancy.
An iPhone 5 is worth about $253 (about £158), 9to5Mac have estimated. However, a quick look at Carphone Warehouse's website reveals what appears to be better trade-in deals for fashion-conscious fanbois desperate to get their hands on the latest model.
Fanbois can pass on their old iPhone 4S to the company for £152, just a few quid less than Apple's price in the US for the more recent iPhone 5. Although Carphone Warehouse's price for the iPhone 5 is not listed, it is likely to be slightly higher than Apple's valuation. ®