GTA players get ersatz $0.5m each to make up for delayed hooker-beating fulfilment
Quantitative easing comes to Los Santos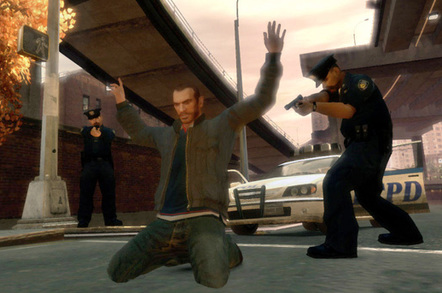 The makers of Grand Theft Auto have apologized for teething problems in getting the online multiplayer version of the game up and running and are handing out half a million dollars of in-game currency to all players to make up for it.
"In order to keep the current worldwide in-game economy balanced, we will be providing this GTA$ to players via two deposits of $250,000," said the company in a blog post. "We will announce specific dates as soon as possible, but are currently hoping to be able to make the first deposit by the end of next week (after we've confirmed that issues causing game progress loss have been fixed) with the second installment to happen by the end of the month."
In order to qualify for the "stimulus package" (as Rockstar is calling the payment) players must be online in the GTA universe this month and have installed the latest version 1.04 update, which is due out next week and will hopefully fix some of the in-game problems that have been bedeviling players.
Since the launch players have complained about being locked out of missions, suffering crashes that kill characters and cost them money, and a host of other problems. To be fair, Rockstar did warn players that the game was likely to be buggy at first and said in the blog post that unfortunately those players who have lost their characters so far aren't going to get them back.
But splashing out half a million dollars on each player is a big payday for all concerned. The most expensive apartment you can buy in the game costs $400,000 and many players would be expected to buy somewhere cheaper and spend their money on car modifications, weaponry, lapdances or investing in the stock market, depending on what's available at their level of play.
Dumping that amount of cash into the game will cause Rockstar to lose some sales of in-game currency, but judging from the reaction on the GTA message boards gamers are very pleased indeed with the news. ®
Sponsored: Minds Mastering Machines - Call for papers now open