Office wage slaves face extinction at hands of ROBOTS - if bosses listen to Gartner
Color us skeptical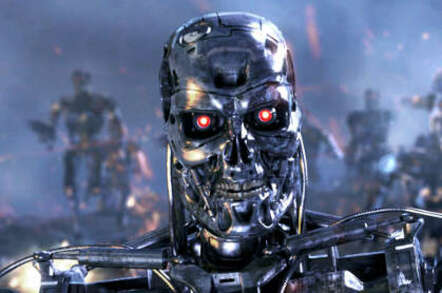 Analyst house Gartner is warning management that they are missing the chance to sack lots of middle-class employees and replace them with computer systems by 2020.
"We certainly will not approach a state of mass unemployment at any time in the near future. What is also certain, however, is that many new combinations of technology - from intelligent software agents, expert systems and virtual reality assistants to software systems embedded in smart products and revolutionary new forms of robotics - will emerge and have great impacts in this decade," said Kenneth Brant, research director at Gartner.
"We won't need to develop a full-functioning artificial brain by 2020 for smart machines to have radically changed our business models, workforce, cost structure and competitiveness."
According to Brant, about 60 per cent of the CEOs Gartner interviewed described smart machines as a "futurist fantasy," but the analysts stand by their belief that these luddites will be crippling their businesses with higher wage costs if they don't start preparing to sack staff and replace them with software.
"It's worth remembering that IT cost is typically about four percent of annual revenue, whereas the labor costs that can be rationalized by smart machines are as high as 40 percent of revenue in some knowledge and service industries," said Brant.
"The supply side of the market - including IBM, GE, Google, Microsoft, Apple and Amazon - is placing large bets on the success of smart machines, while the demand side includes high-profile first movers that will trigger an 'arms race' for acquiring and/or developing smart machines."
That's got to sound tempting to the bean counters in the back room, but El Reg suspects that the more skeptical bosses may have a point. As we have pointed out before, there's a world of difference between the promises of IT companies and the actual effectiveness of replacing skilled workers with software and casual staff. It would be a very foolish brave CEO who rushed into such a plan.
Gartner does at least acknowledge that its lofty predictions might be thwarted by reality. It says the growth of smart machines would be slowed if they don't work as well as advertised, or if people rebelled against being cast into the ranks of the long-term unemployed and elect politicians to limit the use of intelligent systems.
But the analysts' report warns that companies that don't start preparing to shift to smart machines by 2015 "will not perform in the top quartile for productivity and operating profit margin improvement in their industry."
Then again, these predictions come from the firm that predicted Windows Phone would surpass iOS in popularity by 2015 (just ahead of BlackBerry – which Gartner predicted would have over 10 per cent of the market by then), and was very vocal in saying Apple's iPhone wasn't a business device and had limited appeal.
In other words, no need to panic just yet. ®
Sponsored: Minds Mastering Machines - Call for papers now open