Rumoured rain can't dampen sun-racers' spirits
Don't fall down that mineshaaaaaaaft!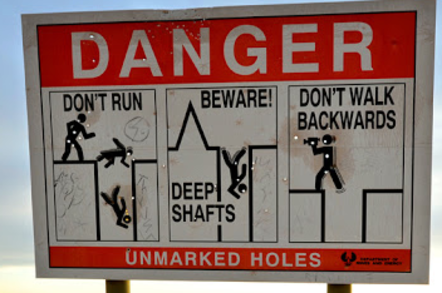 World Solar Challenge Day five of racing in the 2013 World Solar Challenge will bring different challenges to participants.
At the head of the field, leading teams will make it to the finish line today in the city of Adelaide, a cosmopolitan metropolis where they can expect to find any comfort they desire.
At the rear of the field teams camped out in horrendous desert conditions.
Here's a shot of the camp struck by Colombia's EAFIT-EPM Solar Car Team by the roadside at 28° 17' 27.6" S, 134° 9' 36" E
At the time Vulture South took this shot the temperature was 42 degrees, the wind gusted to 100 km/h and flies were buzzing so thickly that it was a rare ten seconds in which your correspondent did not have to expel one from a nostril.
EAFIT-EPM team members had wrapped their safety vests around their faces to thwart the flying pests. Team members wearing ski goggles were the most comfortable.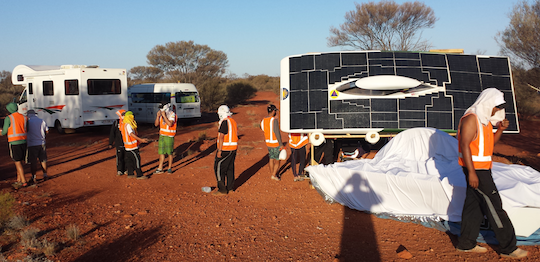 And this was one of the better camps we saw.
Teams that managed to make it down the road to the opal mining town of Coober Pedy were far happier overnight, even if they woke to news of possible rain at Port Augusta, the next big stop on the Solar Challenge's route. Those we spoke to felt the rain was not a worry: most have full batteries and don't plan on doing much more than the 500km hop to Port Augusta, a distance that should be achievable without bright sunlight.
Coober Pedy brings with it other challenges. Signs litter the highway advising visitors to take care around the opal fields lest they fall down an unmarked mineshaft.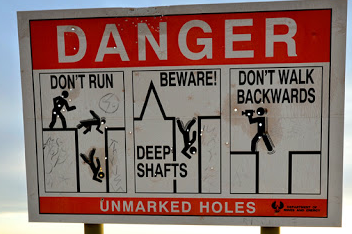 A warning sign on the Coober Pedy opal fields
Lastly, some good news for the Michigan University Solar Team: "Cram", the woman behind the counter at the local roadhouse where Vulture South filled up with petrol today, declared its representatives to be the nicest and most polite of all teams.
Roadhouse staff have certainly appreciated the presence of the World Solar Challenge: it's not often they get 100 customers in an hour in the remote spots they inhabit! ®
Sponsored: Minds Mastering Machines - Call for papers now open