Samsung Ativ Book 9 Lite: 13.3-inch slimline notebook with a secret
Quad-core coyness and a so-so battery life
Atom smasher
And while we're on the subject of Atom devices, I've hooked up quite a few to a full HD monitor to test movie playback at 1920 x 1080 pixels. All of them have stuttered and smeared 1080p content to some extent, favouring 720p media for playback instead.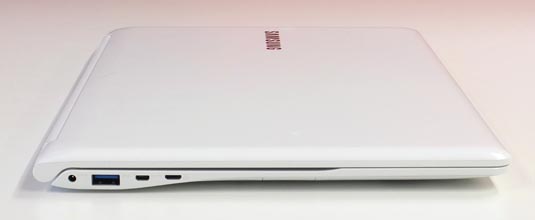 USB 3.0 sleep and charge port on this side
Alongside the USB 3.0 and mini Ethernet ports on the left is a micro HDMI interface, for which Samsung doesn't supply an HDMI adaptor for the box, but I picked one up online for about a fiver and tested out its extended desktop performance on full HD screen. Now this was more like it. A couple of momentary pauses during tracking shots, but that could have been due to the content being on a USB stick. Indeed, further tests direct from the SSD and streaming from a NAS were faultless, which was gratifying.
AMD would pitch its product above Intel's Atom anyway, but it is nonetheless touted as a low cost and low power offering. Incidentally, Samsung does provide a micro Ethernet adapter cable.
There's another mini adaptor slot next to the USB 2.0 port and mic/headphone socket on the right side. This is for a VGA adapter cable that'll set you back £21 from Samsung, if you really need it. Less obvious is the SD card slot nestling in the arched base behind a sprung cover.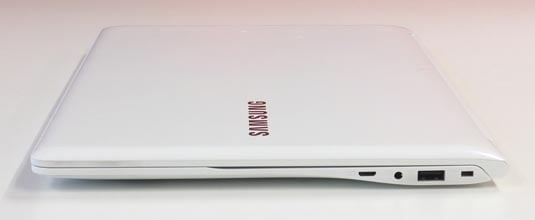 Alas, it's a USB 2.0 port on this side
Unlike the Samsung Series 5, the company has rediscovered the usefulness of the caps lock light and it's plain to see alongside the status indicators above the function keys. Being a small form factor, there are no speaker grilles uppermost, these are in the base and don't have a great deal going for them – overbright, gutless and easily muffled, you'll be reaching for the headphones in no time.
For all my media musings, I had the Ativ Lite wired up to a Pure Jongo portable speaker.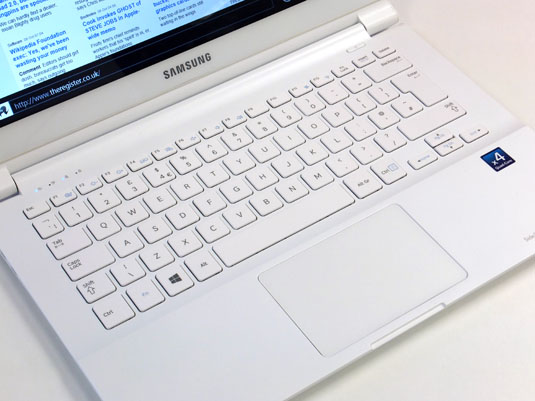 The keyboard has a great feel to it and no distracting layout issues
Keeping the upper deck clear of audio clutter does leave a pleasing amount of space for the full-size chiclet keyboard which does the job nice and firmly without any accompanying clatter. No complaints here at all apart from the absence of backlighting. The multi-touch trackpad is centred too, which means I can spare you another rant about how irritating off-centre trackpads are for left-handed folk such as yours truly. Don't get me started...
Another bit of good news is the screen tilt – it can recline to almost flat, which makes me wonder if Samsung toyed with convertible format akin to the Lenovo IdeaPad Yoga before giving up on the idea.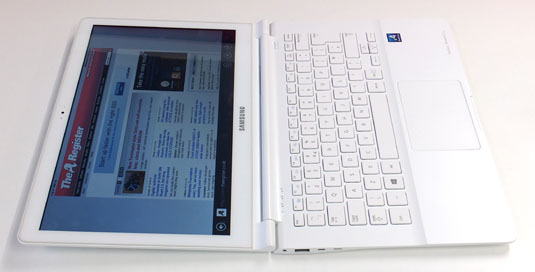 Did Samsung toy with the idea of having this model fold back on itself, only to give up half way?
The screen itself isn't as vibrant or dazzling as some Samsung notebook displays I've come across. The shadowing from off-axis viewing is quite noticeable even at fairly modest angles and the highly reflective display doesn't help matters here either. For one-to-one work it shouldn't be a problem and the touchscreen is very responsive too. Yet I find a year from grappling with Windows 8's witching ways, I can manage more and more without the need for touch control.
Sponsored: Minds Mastering Machines - Call for papers now open