Hey, put away that scythe, Death: Pulse found in HP's 2014 financials
Whitman's bleach just might be stopping the rot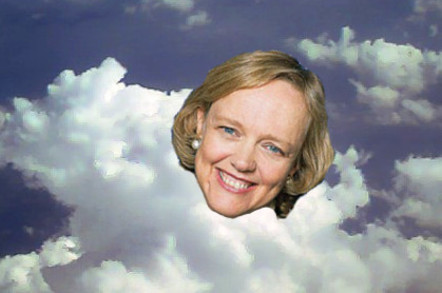 HP has projected healthier financial results for 2014 than beancounters had forecast - causing its share price to rocket up in value.
In a meeting with analysts on Wednesday various HP executives sought to reassure nervous investors that the tech titan's turnaround is succeeding.
"While there is a lot more work to be done, I am confident about the progress we are making," HP chief Meg Whitman said in a canned statement. "We're producing tangible results, strengthening our balance sheet and delivering innovative products across all our key segments."
The company expects a net income that'll result in an earnings-per-share figure between $3.55 and $3.75 in 2014, with a midpoint three cents higher than the $3.62 analysts had been expecting.
"HP expects the year-over-year revenue decline in fiscal 2014 will moderate from fiscal 2013," HP tactfully put in a statement, meaning the company reckons it can bring its falling sales under control.
The company thinks operating profits will be flat to marginally up year-over-year thanks to cost-saving schemes, such as mass firings, and operational efficiency – for instance, pulling a Yahoo! and banning working from home.
After capital expenditures it projects free cash flow of $6bn to $6.5bn in the 2014 fiscal year, and hopes to return a little over $3bn of that to shareholders.
At the time of writing HP shares were trading at $22.60, up 8.92 percent on the previous day.
The company has had a rough few months, having been dumped from the prestigious Dow Jones Industrial Average in September, and reporting disappointing earnings in August.
Many of HP's traditional businesses – personal computers and printers – are under threat by the proliferation of mobile devices, decline of the typical PC, and rapidly digitizing workplaces.
It has also had missteps in its enterprise edition, taking a huge write down on its bungled buy of UK software firm Autonomy, and seeing weakening demand for its servers as some customers flip over to commodity hardware made by Asian manufacturers.
HP isn't willing to cede ground in new product categories, though, and said it expects to have invested some $3bn in research and development in 2013 – though how much of that is integrating acquisitions and disparate projects together, versus original technology development, is unknown. ®
Sponsored: Minds Mastering Machines - Call for papers now open