Wanna run someone over in your next Ford? No dice, it won't let you
It's the end of jokes about women parking, too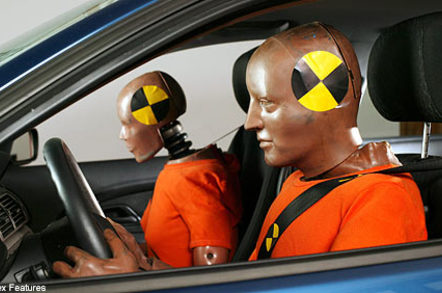 Ford has been flaunting the latest gizmos it plans to add to its cars, including a self-parking mode designed to squeeze motors into smaller parking spaces.
At a testing facility in Germany the company has been showing off the latest gizmos that have been built into one of its Focus cars. The vehicle is equipped with radar, ultrasonic sensors, and a camera to scan up to 200 meters in front of the vehicle and these manage the Obstacle Avoidance System, developed in partnership with other car manufacturers.
"You're driving down the road and a pedestrian or something comes out from either side of your vehicle in your peripheral vision where you don't have a good look at it then obstacle avoidance can sense that that object is coming across the front of your vehicle," said Barb Samardzich, VP of product development at Ford of Europe.
"If it doesn't sense you responding accordingly by braking or maneuvering it will take over and apply the brakes so that you avoid that collision."
That said the system isn't perfect. Ford tested it out at speeds of up to 38mph, so if you're planning a high speed chase and want the car to avoid the inevitable baby in a pram for you, you're out of luck.
Some of the same sensors are used by the car in its self-parking mode. This allows the car to scan for a suitably sized space and maneuver into and out of the spot, without the driver needing to be in the car. Ford estimates that car widths have increased 16 per cent in the last decade and parking sizes haven't got any bigger, so it's touting the system as one answer to the door scraping that comes with tiny parking spaces.
Self-parking cars are nothing new. Volkswagen showed off a self-parking car in 1992, Toyota has its Intelligent Parking Assist System (IPAS) that comes with some Lexus and Prius models, and Audi and Volvo have also got similar systems. Ford hasn't given a data for the release of its try in the area, but has promised some news by Christmas.
While the new Ford systems appear to work as specified Google must be rather amused by the hoopla with which the car manufacturer is making over the technology. When you've built a car that can actually drive itself without incident then parking and slow-speed object avoidance must look like a piffling production. ®
Sponsored: Minds Mastering Machines - Call for papers now open