Apple iMac 27-inch 2013: An extra hundred quid for what exactly?
Do Haswell, updated graphics and optional PCIe SSDs justify the price rise?
Muddled upgrade options
And then there's that £100 price rise to think about too. This 27-inch model now starts at £1599, compared to £1499 last year. It does at least incorporate a new quad-core Haswell Core i5, as well as increasing the clock speed from 2.9GHz to 3.2GHz, rising to 3.6GHz with Intel's TurboBoost core auto-overclocking tech. This achieves a score of 11,200 in the GeekBench benchmark tests, which – on processor performance alone – makes it the fastest Mac currently available.
Apple also has a 3.4GHz model available that costs £1749, and which forms the basis for a build-to-order until with a Core-i7 processor that runs at 3.5GHz.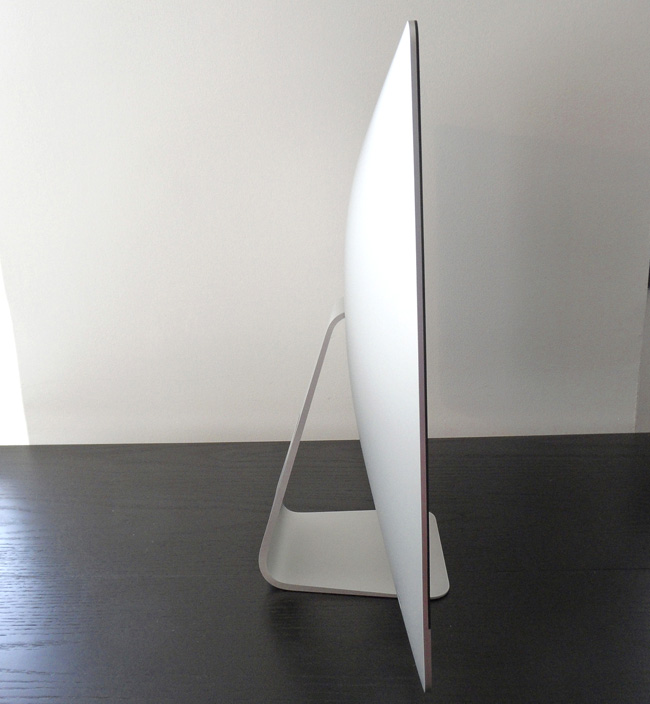 Skinny sides, chunky posterior
Annoyingly, this i7 option isn't available if you buy the 3.2GHz model. This means that you have to pay £150 extra in order to choose the 3.4GHz processor – that you're not going to use – and then a further £190 to get the i7 upgrade that takes the total price up to £1,939.
That said, shifting from the 3.2GHz 27-inch iMac to the 3.4GHz model also gets you Nvidia's GeForce GTX 775M GPU rather than the standard GT 755M. Even the latter is able to run the Mac version of Batman: Arkham City at a playable 31fps at 2560 x 1440 resolution and with graphics and anti-aliasing settings cranked up to their highest levels. Turning the resolution down to 1600 x 900 and 1280 x 720 produced framerates of 51fps and 62fps respectively, so the iMac can certainly handle some serious gaming action if it needs to.
The CPU has its own graphics, of course, Intel's Iris Pro. The iMac's processor is one of the few with Iris Pro – the 5200 in the chip maker's numbering scheme – on board. Most opt for the 5100 aka plain Iris, or the 4x00 set. Having put the Nvidia GPU on board, why did Apple bother with Iris Pro? Or vice versa?
The GT 755M is a mid-range laptop component with a modest 1GB of video memory – the GTX comes with 2GB – and you'd be entitled to expect one of the desktop GTX cards in a high-end model such as this. Also disappointing are the 8GB of memory and the base 1TB hard drive, which seem quite miserly in a machine price as high as this one.
Geekbench Benchmark Results

Longer bars are better
Opting for a conventional hard drive rather than a solid-state drive also affects the iMac's overall performance levels. Out of curiosity, I installed Windows 7 on the iMac using Boot Camp and used the PCMark 7 benchmark to check overall system performance. My colleague Bob Dormon will be relieved to hear that I had no trouble with Boot Camp on the new iMac – he had bother running it on the latest MacBook Air – although its PCMark score of 3585 could probably be beaten by my granny if you gave her an SSD to play with. Last year's 27-inch iMac – with a third-gen Core i5 clocked at 3.2GHz – scored 2705 in PCMark 7.
One final improvement in this model is the inclusion of 802.11ac Wi-Fi, which I was able to test using Apple's 802.11ac-equipped Time Capsule. With a direct line of sight and a distance of 10m, 802.11n in 2.4GHz produced a data transfer speed of 66.66Mbps when copying my iTunes library onto the Time Capsule.
Switching to 802.11ac in the 5GHz band more than doubled that speed to 160Mbps, so that's a genuine improvement for people who perform Time Machine backups via Wi-Fi.
The Reg Verdict
The slimline design of the iMac is still impressive, but it comes at quite a price. That said, other big-name AIOs are not much different. Lenovo's 27-inch IdeaCentre A730, for instance, is £100 cheaper, but you only get 6GB of memory, a GeForce GT 745M GPU and 802.11n Wi-Fi. On the other hand, its chip is a Core-i7 (though only 2.4GHz), its 1TB HDD comes has an 8GB SSD attached, a digital TV tuner and a Blu-ray drive. It's by no means as much of a looker as the iMac, mind.
You can get a PC tower and separate monitor for a lot less money still. You have to decide whether you want or need to pay extra for aesthetics and high-spec construction, both nice to have but not exactly essential.
But that's always been the case with Apple kit, and this new model does at least offer an improvement in performance, the graphics in particular, over its predecessor. And you've got to love that big, high-quality display. ®
Sponsored: Minds Mastering Machines - Call for papers now open

Apple iMac 27-inch 2013: An extra hundred quid for what exactly?
A modest but more expensive speed bump for the iMac, supplied by a better graphics chip and Intel's Haswell chip. Other benefits won't be yours unless you opt for a BTO model.