Apple's new iPhones dope-slap Samsung in US
iPhone 5s sales lead Galaxy S 4 at all major carriers, 5c at two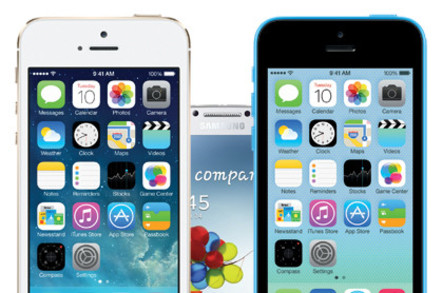 More data has surfaced that indicates Apple's new smartphones are humbling Samsung's Galaxy S 4 in the US.
According to a sales survey conducted by the investment bank Canaccord Genuity, the iPhone 5s outsold the Galaxy 4 S at the US's four major carriers – AT&T, Verizon, Sprint, and T-Mobile – in September, and the 5c is outselling the S 4 at AT&T and Sprint.
"Our September surveys indicated very strong initial sales and back orders for the iPhone 5s and strong iPhone 5c sales at the four tier-1 U.S. carriers and also in international markets," Canaccord's T. Michael Walkley wrote in a note to clients on Friday, CNNMoney reports.
So much for those early reports that the "unapologetically plastic" iPhone 5c was doomed to dud status.
The sales stats are striking, seeing as how Apple's new iPhones didn't go on sale until September 20 – although sales surged out of the gate, with nine million reported sold in the first three days of availability.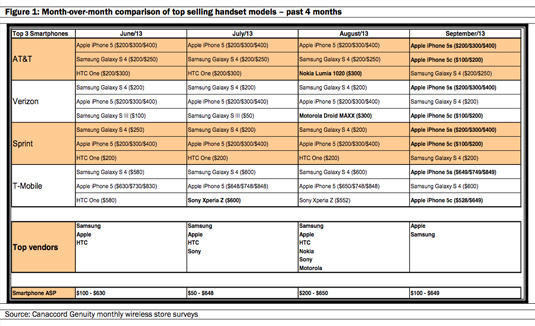 iPhone 5s swallows Samsung's lead among all major US carriers (click to enlarge)
Apparently, the early big lead of iPhone 5s sales in the US over that of its cheaper less-expensive stablemate is closing as those fervent fanbois who rushed to purchase Apple's flagship smartphone were satiated, and normal purchasing patterns began to set in.
Those purchasing patterns don't bode well for Sammy. As Walkley proposes in his note, Samsung's second-place finish at Verizon and T-Mobile may have been goosed by price cuts initiated in June – a move, however, that may help them in future months, he believes.
"We believe these price cuts combined with Samsung's aggressive marketing and effective advertising campaign for its existing and new high-tier smartphones, such as the recently-launched Galaxy Note 3," he writes, "could potentially help Samsung reduce high-tier smartphone share losses to Apple in October despite the strong iPhone 5s and 5c demand."
Note the term "potentially" – we'll check in as the months pass. ®
Sponsored: Minds Mastering Machines - Call for papers now open