Alfresco's IPO is bad news for tech stock junkies
GroupOn, Zynga and 3Com: How not to go public
Big Company man running the open-source farm
As you can see, though, Dennerline is no open-source man and that's where Alfresco's made its name – and its reputation. It has an open-source content management system built in Java, JSP and JavaScript; a field largely populated by expensive and proprietary kit. There is a danger that the focus on predictable sales and Wall-St friendly profits could damage Alfresco's relationship with the very community that's helped make it successful.
Alfreso has successfully walked the fine line between free and charging – working with the community to develop and build code that's absorbed into paid and unpaid (Alfresco Community Edition) products, under both commercial and LGPL free software licenses. It uses, among other bits, the Lucene web crawling and enterprise search engine devised by Doug Cutting before he went on to build Hadoop.
In years past, it was the fact that the Alfresco code is open source that let to the development of mobile features. These came from one Alfresco partner, not from Alfresco itself.
Company co-founder John Newton believes the openness of Alfresco's code is important because it makes it possible to integrate Alfresco with other parties' systems.
Newton told The Reg: "Look at Dropbox – I don't have a clue how it runs. Huddle, we know they used [Microsoft's] .NET – you get these little insights once in a while by accident. We want to continue the transparency; we think that's good for business and for the customer. Red Hat has maintained a good relationship and reputation – something that Oracle is really learning right now."
The kinds of things Newton believes can and should be linked, but aren't, are: SAP; email; Evernote; and Dropbox. "You have to build it, because this stuff doesn't work together."
The industry is littered with those in open source who've compromised for commercial reasons, i.e. to make money. Sun Microsystems blew its honeymoon with open-sourcers charging for extensions to MySQL. Oracle alienated open-sourcers in OpenOffice and MySQL. Novell, after signed patent indemnity agreements with Microsoft in the hope of igniting its businesses, was instead heaped with steaming piles of opprobrium by its user communities.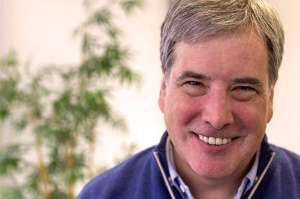 Newton: not tempted to stray from open-source code
Newton reckons Alfresco won't follow this route: "Why we won't be tempted is because that complex problem of linking inside and outside, linking the business together and making it simple enough for end users to understand, is a huge barrier to entry to anybody who's going to just take the code and run away with it."
Dennerline also insists that Alfresco is still developing software for the community. That said, he also told The Reg that a debate is currently underway inside the company about whether planned cloud service offerings should be open-source – like the on-site product. In that respect, Alfresco would be no different to Google or Salesforce.
OK, but what will the new Alfresco make and sell to keep growing at the rate Dennerline and the management wants – and, crucially, that will appeal to Wall Street?
Don't forget, the IPO ideal is enterprise companies like Workday, ServiceNow and Cornerstone, not flops like GroupOn and Zynga. In November 2011 GroupOn opened at $20, rose to $26.11 and today trades at $10. Zynga opened at $10, hit $211.50, and today languishes at $3.
We want to continue the transparency; we think that's good for business and for the customer. Red Hat has maintained a good relationship and reputation - something that Oracle is really learning right now"

John Newton
Workday, the on-demand "human capital management" (aka HR software) company, floated in October 2012, starting at $28 per share and rapidly doubling its valuation. Today Workday is priced at around $73.59. Enterprise IT services management specialist ServiceNow opened at $18 per share in July 2012 and hit $24.75 to trade at around $46 now. Online management trading provider Cornerstone listed in March 2011 at $9, went to $13 and is today trading at $52.81.
Also, there's a risk that in three years from now the moneymen could lose interest in Alfresco. The rising tide is carrying the big data players with it.
Couchbase, the open source distributed NoSQL database upstart, landed $25m in funding in August this year. MongoDB devs 10Gen got $42m in May 2012, while Hadoop shop Cloudera scooped up $65m in December 2012. Valuations for all these firms are in the triple figure region and they all claim growing numbers of customers. Big data is big business.
Alfresco's history has been on-premises enterprise content management (ECM), but the future – according to Dennerline – is those cloud services. Their target customer is users outside Alfresco's software developer fan base. In other words, hosted ECM – which is potentially easier for suits to deploy and manage.
The plan is to put engineers and developers to work building those cloud apps - "a new suite of apps that we will bring to market over the next few years," in Dennerline's words.
"I'm bringing in new talent taken from UX and UI specialists and pairing them with our experts in enterprise content management and marrying them together," he added.
The existing on-premise platform will continue to be verticalised in areas where Alfresco is doing well – government, financial services and high tech environments. Six months from now, there will be "additional products" charged using the new model, Dennerline said. But he admitted revenue from cloud is a long way off.
"We have a viable, growing entity. The lion's share for now, and the next year and a half will be on-premise software," said Dennerline. He insists there's no risk in waiting three years for that IPO. Rather, demand is pent up – and will remain so.
"A lot of people who followed Alfresco for a while, they like what they are seeing in the direction and leadership we are bringing in… and wondering why it's taken this long to go faster. They want to be involved." ®
Sponsored: Minds Mastering Machines - Call for papers now open