Look out, Gartner: Behold the El Reg all-Flash Quadragon™ wonder map-o-graphic
Where do YOU lie on the Vulturine Main Sequence?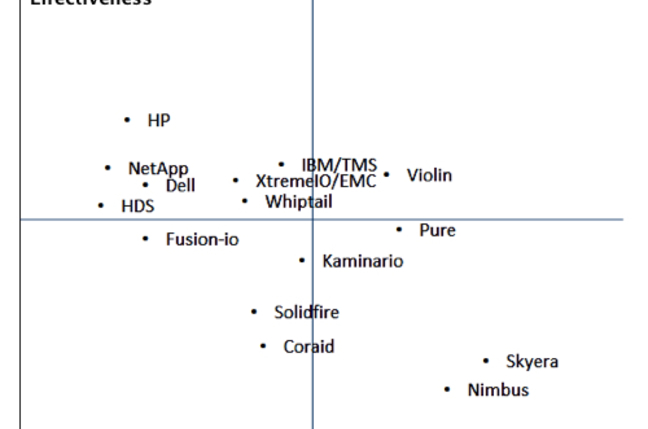 There is a famous 4-box diagram, the one to end all 4-box diagrams; Gartner's Magic Quadrant. How would the all-flash array vendors; start-ups and mainstreamers alike, fare if located in a 4-box diagram space?
The storage desk here at El Reg did just that, using its sophisticated lower abdominal sensing organ and its patent-pending Manky Quadragon concept. The four component rectangles are defined by two axes; the upright one is go-to-market effectiveness (running from low to high) and the bottom (low left to high right) one is innovation.
This is in no way comparable, by the way, to Gartner's famous magic quadrant, with its formal and complex calculated scoring for each vendor in a group. It's more for interest. No vendor has influenced their placement by offering stock, cash or a supply of Starbucks' Americanos, this being independent.
We do have a formal process for dealing with complaints which is to evaluate them carefully, consider them at length, and then preserve them for the rest of the day until the wicker basket in the corner of the room gets emptied by our out-sourced paper recycling service.
Let's get to it, show the chart and then provide a note for each vendor: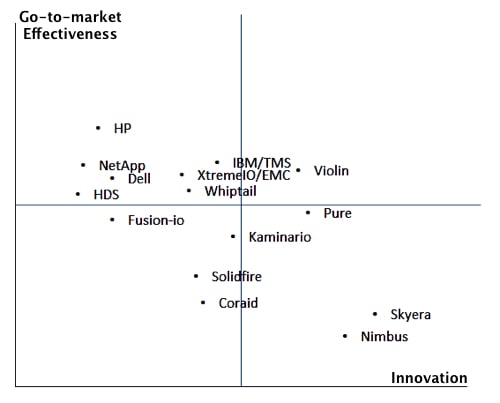 All-flash array vendors in a 4-box space
Cisco/Whiptail - Ah, a lion in waiting, so to speak. How will the obscenely richly remunerated Chambers' company integrate Whiptail tech with its UCS servers? When it moves it's probably going to make big waves.
Coraid - A clever left-field startup, with a range of Ethernet storage. With a new CEO and VCs hot to get an exit trot Coraid will be pushing hard and helping its channel pump the boxes out.
Dell - We're waiting and hoping that the all-flash Compellent array will do the business. Compellent customers will probably love it. If that's not enough then Dell might have to splash cash on another acquisition.
EMC/XtremIO - Listen hard and you'll hear low snoring - because the XTremIO lion sleeps tonight, still on limited availability though there is a Vblock using the box. When this array comes out EMC's ferocious marketing machine could well propel it into the leadership position, over-taking Violin Memory.
Fusion-io - now re-building and with Nexgen technology to build on. Can it erect a flash array business on its outright leader position in server flash cards and software?
HDS - the most complete build-it yourself approach from a mainstream vendor, starting from component controller board hardware. HDS has a great reputation with its customers and a flash array transformation of its customer base must be a solid bet.
HP - determined David Scott believes the 3PAR architecture is perfect for flash - we'll see whether he's right when HP's next quarterly results come out. Will we, by the way, see a Memristor-based 3PAR?
IBM/TMS - It's IBM, now Big Flash Blue - what else can we say? Blue Believers in its customer base will lap 'em up.
Kaminario - focussing in the high-performance area and aiming to beat everyone else on the application speed-up race, which it probably will, but will that be enough?
NetApp - a little late to the party with its coming FlashRay, subsisting on all-flash E-Series for now, but when FlashRay arrives the MetApp marketing and channel machine should just pump 'em out in big numbers.
Nimbus - tenacious Tom Isakovich's startup, high on innovativeness and needing to sell more product to keep up in the competitive research and development and business build-out fronts. Nimbus is agile and could do great things.
Pure Storage - this startup is both innovative and has shown considerable go-to-market effectiveness, now fueled by $150 million of venture capital. It could leapfrog Violin.
Skyera - Innovation snd dogged technology vision personified. We wait and see whether skyHawk and skyEagle arrays which look so very, very good on the runway, will take off, and soar up into glory.
Solidfire - Solid execution so far with cloud storage providers liking the quality of service. Dave Wright has got to get stuck into the cloud provider niche better than anyone else and, so far, things look good.
Violin Memory - the all-flash array market leader we think, and now post-IPO and open for quarterly results inspection. Facing XtremIO competition from EMC if EMC ever gets the thing generally available, and looking at Pure racing up behind it. Now in a SW development race
There we are; our no doubt half-arsed and amateurish effort at comparing and contrasting all-flash array vendors. What do you think? Is it total rubbish? Does it have grains of sense? Does El Reg's Manky Quadragon have a future? ®
Sponsored: RAID: End of an era?