Obamacare goes LIVE, and so do the survey-spewing spambots
Enough to make a Tea Party activist boil over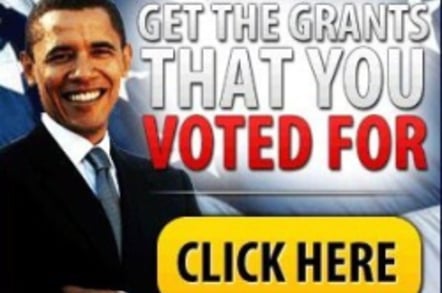 Obamacare-related spam scams surfaced well before sign-ups to the controversial Affordable Care Act began on Tuesday, 1 October.
Spam containing the terms "medicare", "enrollment" and "medical insurance" started surfacing during the first week of September and continues to clog users' inboxes. Links in the spam messages typically deposit users onto survey scam sites that have nothing to do with healthcare and everything to do with hoovering up personal data for dubious marketing schemes.
A blog post (featuring screenshots of spam messages) by Trend Micro explains: "These sites typically encourage users to disclose certain information by pretending to be consumer survey pages or promising enticing prizes or in this case, Apple products like iPad, iPhone 5 etc.
"Because of Obamacare's novelty and impact, this may create confusion among American users. Spammers, unfortunately, see this as an opportunity to lure users into their schemes and disclosing personal information such as name, address, email address and the likes. The bad guys can either sell these to other cybercriminals or be used in other, more menacing threats," Merianne Polintan, an anti-spam research engineer at Trend Micro, warns.
In related news, HealthCare.gov, a US insurance marketplace that opened on Tuesday, was hit by teething troubles, the New York Times reports. Problems with the federal-run exchange coincided with the US government shutdown, triggered after Congress failed to agree a budget, a problem tied to Republican opposition to the Affordable Care Act. ®
Sponsored: Minds Mastering Machines - Call for papers now open