A £30,000, 295bhp 4G MODEM?!? Must be the Audi S3 Quattro, then
The fastest Wi-Fi hotspot on four wheels ... possibly
Facetwit updates at high speed
The new S3's sprightliness also comes courtesy of the diet it has been put on: it weighs a substantial 60kg less than the old model thanks in no small part to the bonnet and wings now being made of aluminium rather than steel. The chassis is apparently made from hot-shaped, hi-tech steels. The engine is 5kg lighter than the old S3's lump.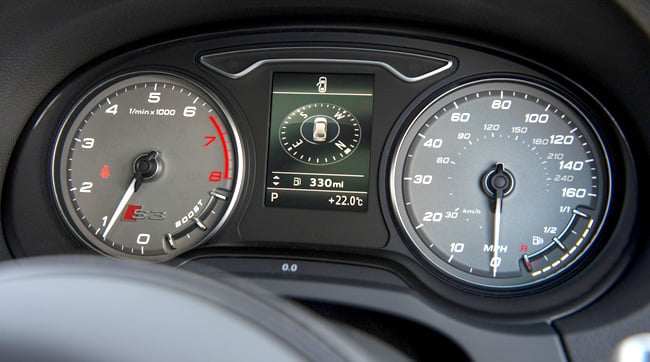 'Boost' - always a good word to see on a dashboard
On the open road or track, the S3 feels savagely fast and thanks to the Quattro AWD system it is a very hard car to get out of shape. Not matter how clumsy or ham-fisted you are, the drivetrain moves the power around the four wheels to keep you from making any unintended visits to Saint Peter. In wet or slick conditions, the four-wheel drive really pays dividends.
All that speed hasn't been dialed in at the expense of refinement. With a couple of rotating balancer shafts in the engine and the option to change the car's settings from Dynamic to Comfort, which reins in the aggressiveness of gear changes and throttle response, it is possible to go quickly in some degree of, yes, comfort. If all you want to do is pootle down to the shops, the S3 is no more difficult to drive than any other member of the A3 clan.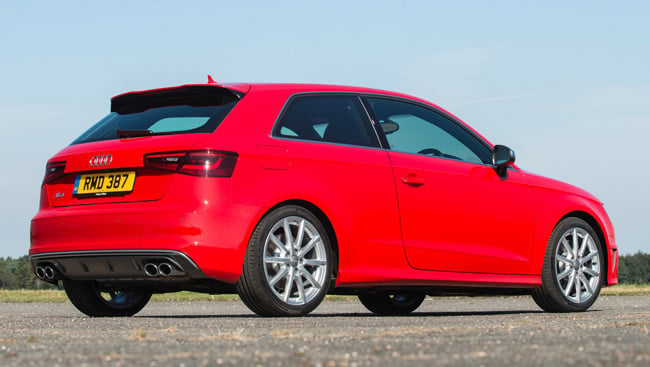 The exterior is smart rather than exciting
Each time I drive an Audi or a VW with an S-tronic 'box I come away more and more impressed. Be it on the open road or pottering around town, the gear changes are now almost as seamless as with a good automatic transmission. I only reached for the flappy-paddles to prove they worked, after that they were an irrelevance. The only downside is a rather aggressive creep while idling. You soon learn to slip it into neutral or keep your foot on the brake at lights.
One thing I could have lived without is the exhaust sound flap and the "electromechanical sound actuator", which combine to generate a pseudo wastegate dump woofle when you put your foot down, alerting PC Plod of your passing to one side, I'm really not sure this sort of silliness - which I presume is designed to give the impression you are driving an early 1980s Group B Quattro through a Welsh forest - will appeal to your average Audi buyer. Dig into the car's settings and you can reduce the sound effect, but you can't switch the thing off.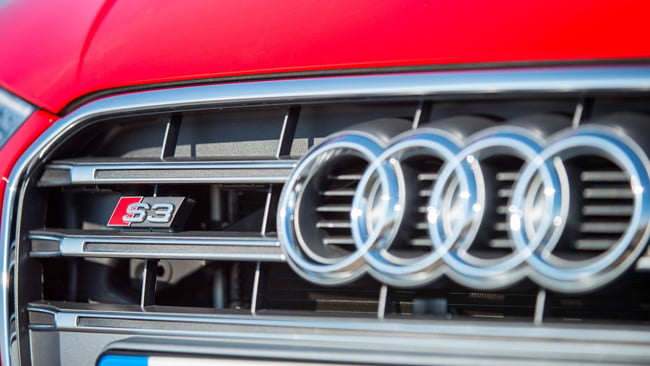 The 'e' suffix to the model number means a Quattro drivetrain
Assuming that you can afford to buy and insure an S3 in the first place, the running costs shouldn't be too onerous. Driven with a modicum of restraint, you'll get around 40mpg. Emissions are pegged at a not unreasonable 159g/km. You probably won't be driving the S3 with much restraint, of course - that would rather defeat the point of the purchase. Either way, being an Audi the residuals will likely be better than average.
Being a press car, the one I drove was laden to the gunwales with all the extra-cost toys, including adaptive cruise control, lane and park assist, and more radars than a US Navy destroyer. Those put the price up quite dramatically but at least the entry model, which will set you back just north of 30 grand, comes with smart 18-inch alloys, part-leather seats, the aforementioned 5.8-inch display and the SIM card slot. You'd expect a top-end Audi to be built like a brick privy inside and out, and you'd be right to do so. Build quality looked and felt faultless.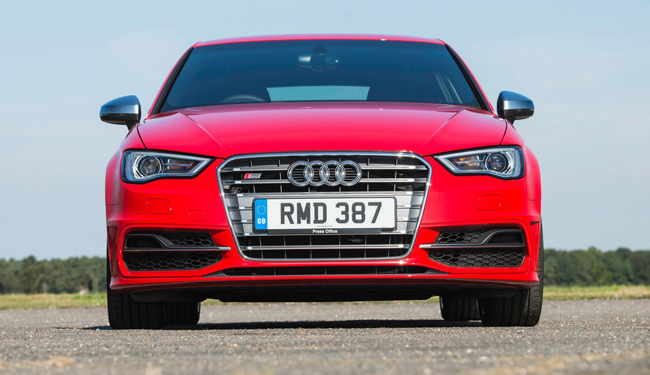 A standard big Audi grill
The Reg Verdict
There's little negative I can think to say about the new S3 as a driver's car. It's fast, forgiving, handsome, spacious, well made and extremely easy to live with. It's not cheap, I grant you, but I think it represents solid enough value especially in bog-standard form without all the bells and whistles you probably don't actually need.
As for the unlocked 4G modem, I like the idea of being able to set up a wireless network in the car. It should prove very useful if you have a Wi-Fi-only tablet, or you work on the go. As for the Facebook and Twitter clients, well, I rather like driving as a way to get away from all that social network cobblers so they are not must-have features in my book. Of course, if I lived with them for a month or two I may end up singing a different song. ®
Sponsored: Minds Mastering Machines - Call for papers now open

A £30,000, 295bhp 4G MODEM?!? Must be the Audi S3 Quattro, then
A fast, spacious and well-made Audi will cunningly integrated 4G connectivity and on-board Wi-Fi.