Samsung: Sod off Apple, we've made gold mobes for way longer than you
'Go back to queuing for a pink iPhone from your favorite frivolous-lawsuits company'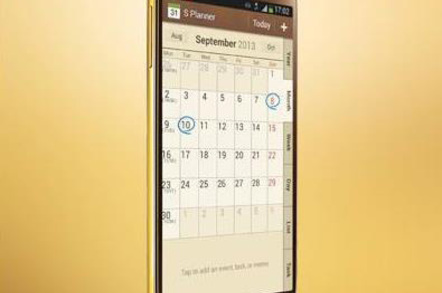 Samsung has launched a campaign to remind arch-rival Apple that it wasn't the first tech firm to release a golden bling-horror phone.
The South Korean giant has gone to the effort of designing a special web page dedicated to showing off the garish champagne-coloured phones it has inflicted on the human population over the years.
Fanbois have been going mad for the latest flavour of the iPhone 5, which has - to absolutely no one's surprise - sold out across the world. But this news must have been too much for some bright spark in Samsung's PR department, who decided to publish the rundown of all its blinged-up gold Midas mobes.
According to Sammy's staff: "By now you probably know that aliens work with Samsung, well so do some kings – Midas, to name one. About a month ago on August 27th, Samsung launched the GALAXY S4 Gold edition in the United Arab Emirates, which were available in stores starting September on 8th. It's since also been released in Kuwait and Qatar.
"Everybody loves gold, which is why we sometimes make phones in that color. (Or sometimes even with actual gold for the body)."
The first of Samsung's golden phones in the list is the 2004 Anycall SCH-E470, SPH-E3200, SPH-E3250 2004 Athens Olympic Phone, which is a gold-covered old-school clamshell flip phone. Others, such as the 2008 Beijing Olympics phone and an effort made in conjunction with Giorgio Armani in 2009, are a bit more tasteful, with just a subtle touch of bling.
Apple and Samsung have been at war for years, waging seemingly interminable legal battles, and each growing armies of fanatical supporters.
Many of the inarticulate fanbois posting on the Samsung blog accused Sammy of lacking originality. One punter raged: "Samsung is one hell idiot for sure. Copy, copy and copy. Then claimed they also have a history. Wonderful and awesome history, you know. It is called 'COPY'."
Then came the inevitable reply came from a Samsung fan, who wrote: "Okay Apple FanBoy, go back to standing in line for your pink iPhone from your favorite company that specializes in frivolous lawsuits."
Another very irate commentard fumed: "Everyone can see Samsung lacks INNOVATION. Don't you have a brain of your own??? Goodness! You suck! I definitely am dumping my S4 straight to the toilet!"
A final commenter said: "So basically I understand you're telling your dear readers 2 things here: Apple doesn't have a monopoly on poor taste and that you take great pride in the fact you designed a tacky version of your flagship, mainly targetted at billionaire slavers who literally shit on human rights. Well, duly noted, Keep up the good work Samsung!."
Yet, Samsung and Apple are likely to continue their unhappy marriage: the South Koreans manufacture key electronics for iProducts such as the system-on-chip processors. Recent reports have claimed Samsung will make up to 40 per cent of the new 64-bit Apple A8 chips, which will power the next generation of iOS gizmos. However, neither company has confirmed this rumour. ®
Sponsored: Minds Mastering Machines - Call for papers now open