US.gov - including NASA et al - quits internet. Is the UN running it now?
'Due to a lapse in funding, the US federal government has shut down'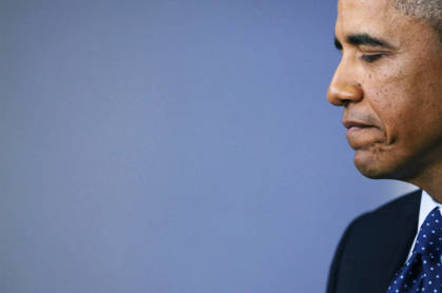 The US government has disappeared from the internet after a hard core of Republican party lawmakers forced the superpower's state agencies to shut down over a budget dispute.
The House of Representatives refused to agree a budget that would keep cash flowing to public departments, meaning that the entire government was forced to shutter itself.
Republicans wanted to see a public healthcare scheme dubbed Obamacare delayed by at least a year - something the Democrats just wouldn't agree to, because it is a key policy championed by President Obama himself. The reforms came into force today, allowing millions of poor Americans access to low-cost, state-backed health insurance.
This is the first time in 17 years that the US government has been forced into stasis. Back in November 1995 Newt Gingrich, the Republican speaker of the House of Representatives, got into a standoff with Democrat President Bill Clinton over the rate of federal spending.
The main American government web portal has partially shut its doors, greeting visitors with the words:
Due to a lapse in funding, the US federal government has shut down.
However, some of the website is still working, including a few of the government agencies it links to. Just don't expect a reply to your emails.
The NASA website is one of the great casualties of the shutdown. It has simply stopped working and now only shows the message:
Due to the lapse in federal government funding, this website is not available. We sincerely regret this inconvenience. For information about available government services, visit USA.gov.
The National Institutes of Health also showed the following message:
Due to the lapse in government funding, the information on this web site may not be up to date, transactions submitted via the web site may not be processed, and the agency may not be able to respond to inquiries until appropriations are enacted.
When the shutdown began, Barack Obama tweeted:
They actually did it. A group of Republicans in the House just forced a government shutdown over Obamacare instead of passing a real budget.

— Barack Obama (@BarackObama) October 1, 2013
Obama also branded the Republican rump "extremists" before telling world+dog that his Affordable Care Act would continue as planned regardless of the freeze in government funding.
Have you had any experience of a technological meltdown caused by the government shutdown? Get in touch and let us know. ®
Sponsored: Minds Mastering Machines - Call for papers now open