Hong Kong's data centres stay high and dry amid Typhoon Usagi
180 km/h winds kill 25 in China, but the data centres keep humming
Old barns with new bits
Fujitsu's bit barn, like many in the SAR, is actually located in a converted industrial building. In fact, the Hong Kong Office of the Government Chief Information Officer (OGCIO) and its Datacentre Facilitation Unit (DCFU) has been promoting the conversion of such premises for some time, aware of the shortage of land available to build on and of the need to attract MNCs which may be eyeing up other Asian locations like Singapore.
"It is the DCFU's job to guide data-centre operators in the entire process in terms of providing technical advice, facilitating industry's compliance, liaising with government agencies, and many other acts," Frost & Sullivan analyst Danni Xu told The Reg.
"For instance, DCFU's Code of Practice gives stringent guidance on the conversion of industrial buildings for data centre use, while the Lands Department's Practice Note [addresses] the design and deployment of cooling."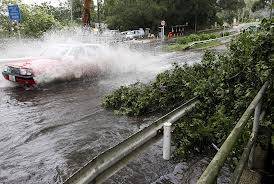 In the case of converting an industrial building into a data centre, operators need to check if additional work is needed to improve its resilience, Arup's Chan recommended.
"Due diligence or a feasibility study are required beforehand to review the usage of building, plot ratio, structural loading, utilities availability, and so on," he said.
Plan, plan, plan
It's not all about the design of the data centre when it comes to ensuring business continuity amid 140 mph winds, however.
"In the case of a typhoon, where there is usually plenty of warning, we bring in additional staff to provide cover for the duration of the storm," said Adcock. "There are sleeping facilities, washing and shower facilities as well as basic catering and food supplies to keep everyone comfortable until the weather moderates."
Stephen Hilton, regional head of engineering and critical facilities at consultancy EC Harris, argued that ensuring business continuity during a severe storm is all about planning and preparation.
"During the time we're moving from T1 to T3 to T8 we have various procedures – testing systems, cleaning drains, removing things from outside which could blow away, putting sandbags against outside doors. But even without these extra precautions the data centre ... would withstand any ingress of water," he explained.
"Afterwards it's about slowly reversing the processes and getting back to work to fix any problems it may have caused. It's not normal for data centres to be affected, because typhoons are predictable and the risks can be managed."
Nevertheless it's wise to expect the unexpected, Hilton warned.
"The last typhoon coincided with the highest tide of the year, so there was a fear in Hong Kong that if it had come from the south we would have got a storm surge," he added. "We always look at the worst case 100 year event in our planning." ®