That's a money spinner: iPod wheel patent bout bags bod £2m from Apple
Payout is pocket change for Cupertino, tidy windfall for inventor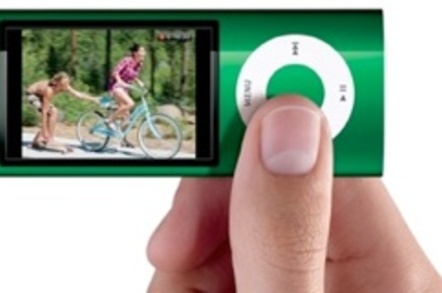 Fruity tech titan Apple (2012 profit: £25bn) has been forced to pay out £2m to a Japanese inventor - after a Tokyo court found its iPod click wheel design infringed his patents.
Cupertino's learned friends have been fighting this legal battle in the Land of the Rising Sun for the past six years. It started when Norihiko Saito filed a complaint to Tokyo Customs in 2007 seeking an injunction on iPod imports into Japan.
Apple then filed a lawsuit in hope of confirming the absence of any patent infringement, according to a Dow Jones report referencing Kyodo News (paywalled).
Saito sought to up the stakes, demanding damages of ¥100m (£631,000) which he then boosted to a whopping ¥10bn (£63m). After the inventor failed to reach a settlement with Apple, Judge Teruhisa Takano set the payout at ¥330m (£2m) in a Tokyo District Court ruling yesterday.
The circular touch pad technology, which Apple introduced to its iPod devices in 2004, has played a key part in their success – allowing users to navigate quickly through the menu screen with one hand.
(It could be argued that the iPod's success also helped speed the demise of Japanese giant Sony's once-groundbreaking Walkman brand of personal music players.)
Lest Apple be feeling a little peeved at the court ruling, it need only remember its i-devices have made a big impact in Japan. In fact, thanks to a recent tie-up with the country's largest mobile operator, NTT Docomo, the iPhone can now tap a potential market of 61 million subscribers.
If Japan's love of all things Apple was ever in doubt, the nation's manga enthusiasts have been hard at work re-imagining Siri in human form. Thanks to the fact that "Siri" is one vowel away from the Japanese word for "butt", there is a distinctly arse-heavy feel to this gallery of personifications of the voice-controlled personal assistant software, collated by blog Nikita Sokuhou - the images are borderline NSFW. ®
Sponsored: Minds Mastering Machines - Call for papers now open