Global execs name Apple 'most innovative company' – again
Google bumped down to number three by Apple arch-rival Samsung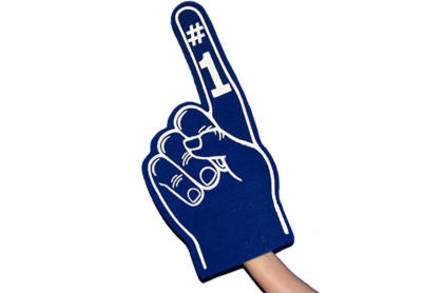 When unveiling the soon-to-be-released computer-in-a-can Mac Pro at the company's Worldwide Developers Conference this June, Apple marketing headman Phil Schiller quipped "Can't innovate anymore, my ass," a barb aimed at those observers who accuse Cupertino of having lost its mojo.
Global business strategy firm Boston Consulting Group isn't among those naysayers – it has named Apple the most innovative company in the world, a title it has earned in each BCG ranking since it began reporting the results of its surveys of over 1,500 senior executives in 2005.
The execs surveyed are heavily weighted towards towards the US – 363 respondents – but China, Japan and "Other Asian" execs total more than stateside captains of industry. Survey respondents came from a broad range of fields, from "Industrial products and processes" to media, automotive, healthcare, and more – and their considered opinion is that Apple continues to lead the pack when it comes to innovation.
Although Apple's brand presence and long-standing reputation for refining such markets as PC user interfaces, digital music players, smartphones, and tablets may explain the execs' high regard for that company's innovation, it might surprise you that their choice of the number two most-innovative company is Samsung, which bumped Google down from that ranking in 2012 to number three in this year's survey.
Samsung, after all, has been repeatedly accused of producing copycat products – a charge that one judge agreed with to the tune of $1.05bn, and that has gotten Sammy in trouble in the decidedly less high-tech realm of vacuum cleaners.
But BCG isn't buying it. "Samsung thrives on innovation," they write, "and top management is responsible for the philosophy behind a culture and approach that nurture bold ideas and executes big technological advances."
The report notes that Samsung's "new management initiative," begun in 1993 with the slogan "Change everything except your wife and children," transformed the company's organizational structure, increased its global reach, and intensified its R&D. The 1,500 execs are impressed with recent results, apparently – as recently as 2008, Samsung ranked 26 in the BCG survey.
Google may have slipped one notch in the BCG 2013 ranking, but a number of other tech companies in the top 50 fared far worse: Dell dropped 13 positions to number 31, Intel slipped 11 slots down to number 30, and Facebook moved down seven places to number 12. Microsoft, by the way, retained its number 4 ranking from 2012, down from its peak of number 3 in 2010.
On the other hand, two other tech-sector companies returned to the top 50 after dropping off the list entirely in 2012: Nokia, which ranked number 9 in 2009, returned at 29, and Cisco, which had its highest ranking at 25 in 2007, came back this year at 46.
But Apple – "Despite its recent stock-market travails" – remains the most respected company among the execs. Not only that, but its contributions, along with those from Google, contribute to the success of others.
"One of the most striking elements of this year's list of up-and-coming innovators," write BCG senior partner Philip Evans, "is the number of companies that depend – in whole or in part – on platforms and standards created by two longstanding most-innovative companies: Apple (number one) and Google (number three)."
Among that list of "up-and-coming innovators" are Groupon, Netflix, Pinterest, Spotify, Square, and WhatsApp. ®
Sponsored: Minds Mastering Machines - Call for papers now open