Fresh shift of 'nauts arrives at Space Station, planning torch jaunt
Soyuz crew confirms spacewalk planned to promote Olympics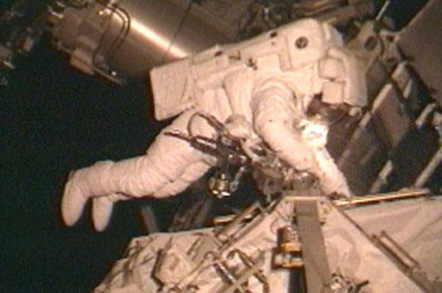 Astronauts and cosmonauts from Russia and the US had a fuss-free journey to the International Space Station, where they have just arrived for a five-and-a-half-month stint working and living on the hurtling lab.
Oleg Kotov, Mike Hopkins and Sergey Ryazanskiy took just under six hours from lift-off from the Baikonur Cosmodrome in Kazakhstan to dock with the ISS.
Their speedy journey to the ISS contrasts dramatically with the fate of Orbital Sciences unmanned Cgynus freighter, which should have rendezvoused with the space station by now, but for the fact that its mission was delayed by an unexpected software malfunction.
It means that a crew of six 'nauts based on the microgravity lab will now be present to greet Cygnus's arrival, which won't happen until the weekend at the earliest.
The space truck – which is on a demonstration mission – has resources in place to hang around in orbit for an extended amount of time, the company's executive veep Frank Culbertson said on Monday.
Meanwhile, during their time on the ISS, Kotov, Hopkins and Ryazanskiy are expected to make three spacewalks. The most media-friendly of these will involve them waving around an unlit Olympic torch outside the airlock.
The spectacle will take place to promote 2014's winter Olympic Games in the Russian city of Sochi. The torch itself has yet to be delivered to the ISS. That's the job of the next crew sent to the lab in November. ®
Sponsored: Minds Mastering Machines - Call for papers now open