Ericsson adds Dot to the office mobe coverage map
No more hanging out in the stairwell to get a signal
Ericsson has launched a palm-sized mobile phone base station called Dot, which camps on the office LAN to provide cellular coverage throughout your building and is managed by a radio stack in the basement.
The Dot is styled to disappear into the office décor. Weighing only 300g, it's more than an antenna but less than a femtocell as it relies on an in-building base station to process the signalling, but takes care of the radio stack itself. Certainly the design is elegant, though Ericsson's team might have overdone it with a video which would make Apple blush.
In-building systems are currently split between distributed antenna systems, which require complex installation to haul radio signals back to a central point for processing, and Small Cell systems where each (femto)cell makes its own connection back to the mobile network.
Dot attempts to hit the middle ground with enough intelligence to backhaul over the existing office cables, taking its power from that same RJ45 connection. The Dot uses the LAN to connect to an Indoor Radio Unit, each of which can handle up to eight Dots. That unit is fibred to a single Digital Unit, which can handle 12 Indoor Radio Units and backhauls into the cellular network, over another fibre optic connection.
With the right Indoor Radio Unit the Dot can handle 3G (W-CDMA) and LTE, with Wi-Fi promised for the next version. The first version is single-frequency (MIMO, 2x2 at 100mW each) but the front part of the Dot is removable and can be replaced, or upgraded, to increase or change the frequencies supported – important in the hugely fragmented LTE market.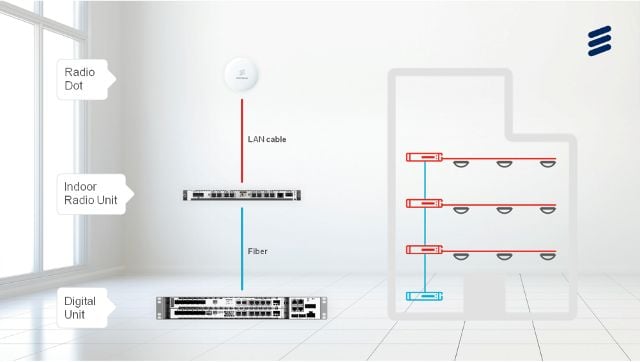 Is your office not laid out in just this way?
Using Ethernet Cat 5, 6, or 7 for the last few metres should make installation easier, though Ericsson reckons dedicated cable will be needed rather than sharing the office infrastructure. Alcatel Lucent's LightRadio is entirely cloud-based, allowing a single rack-mounted radio to take loading from any busy cell, but it requires fibre optic all the way to the cell which has slowed deployment of the impressively-innovative approach.
The nearest thing to Ericsson's Dot is probably SpiderCloud, which offers centralised management of femtocells deployed around the office. SpiderCloud requires cells with slightly more intelligence than the Dot, as it has no equivalent to the Indoor Radio Unit, but the functionality (and use of existing cable) is similar.
Certainly SpiderCloud will be looking to its patent portfolio to see if Ericsson is stepping on any toes. Ericsson reckons it spent two years developing the Dot, and filed 14 patents of its own, so some cross-licensing is likely.
The real losers are the radio technicians, as everyone involved in developing small cell solutions keeps emphasising how any muppet can get coverage deployed and leave it to the software to sort out the details and integration with the macro network, which will be great if it's true.
We won't find that out until the tail end of next year, when the Dot starts popping up in deployments, but for network operators 18 months isn't a great deal of time – and we'll no doubt be hearing about some signed deals soon. ®
Sponsored: Minds Mastering Machines - Call for papers now open