A Tapestry of network complexity
Open source network scoring tool set for release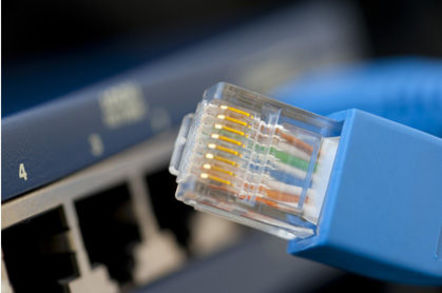 Forget drawing network maps or sending your network management software on an epic tour of auto-discovery: a group getting ready to launch an open-source "network complexity scoring" tool says it's all about the endpoint.
Infoblox, part of the Flowforwarding.org SDN (software defined networking) community, is prepping the ground for its soon-to-be-released Tapestry, under the Apache license, which it says will give users a straightforward metric for assessing the growth in network complexity over time.
Their argument is simple: if (for example) you are a BYO device-warrior, accessing a company in-house app by logging into the corporate network from home over a 4G connection, while the app itself is hosted on a third-party private cloud service … well, yes, the network is complex.
Infoblox's Stuart Bailey and the University of Chicago's Robert Grossman argue that the complexity of such a mix of endpoints is becoming more important in determining how things work and how they perform than might be indicated by the network bandwidth you have available.
(That, at least, will make sense to anyone who's watched a website slow to a crawl, regardless of the fatness of the pipe, because some third-party ad network is slow to respond.)
"In the same way that providing the average degree of a node for a web graph does not summarize the network complexity—there are some nodes with lots of links while most nodes have a relatively small number of links—providing the average size of the sub-communities in a network graph does not summarize the network's complexity," they write.
Hence Tapestry, the idea of which is to pull data from the DNS requests it sees on a company's network, and turn that into a score of the network's complexity – not as a traditional LAN and WAN map, but as a set of numbers derived from an equation.
The equation (below as an image) is a statistical expression of the size of sub-communities in the network, based on the statistical concept of the H-index.

Tapestry, when released, will provide nice C-class-friendly metrics over time that'll look like this: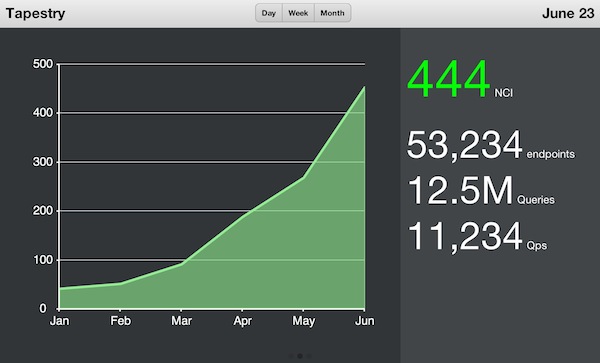 The open source Tapestry aims at a simple score for network complexity
As Bailey puts it: "Discussions about network complexity focus on the tangle of wires and boxes, rather than the relationship of business processes to an increasingly large, dynamic, and shared global IT infrastructure."
Tapestry will be available here, and is expected to ship within weeks. It will run on the Loom SDN control plane software from FlowForwarding.org, sitting on cheap white-box Ethernet controllers. ®
Sponsored: Minds Mastering Machines - Call for papers now open