Disk-pushers, get reel: Even GOOGLE relies on tape
Prepare to be beaten by your old, cheap rival
Tape and the cloud
Google appears to be using several Oracle StreamLine 8500 libraries in its Lenoir, North America data centre; you can inspect a video of it here.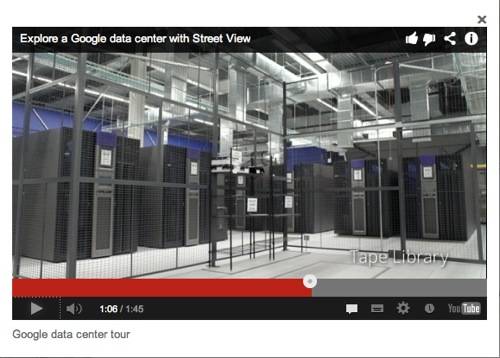 Six or so Oracle StreamLine 8500 tape libraries in Google's Lenoir data centre.
Also, the Googleplex recovered from an email outage in 2011 using tape. If tape is used by the famously cost-efficient and reliable Google IT department, then it's harder to think of a more ringing endorsement. Perhaps if Amazon endorsed tape? … it has, though not publicly.
The Glacier cloud archiving service started up last year by Amazon is based on SpectraLogic T-finity tape libraries. How many?
Amazon says that the Glacier service stores data in multiple facilities and on multiple devices within each facility. The Glacier service is available in just a few Amazon regions:
US East - North Virginia
US West - Oregon
US West - Northern California
EU - Ireland
Asia Pacific - Tokyo
The number of data centres in each region varies with the number of availability zones in each region and is not generally publicised by Amazon. However, a bit of Googling shows five availability zones and 10 data centres in the US East (North Virginia) region. US West - Oregon has at least three data centres. To get a rough approximation let's assume two libraries per data centre and four data centres per region, which would indicate Amazon has something like 40 SpectraLogic libraries.
SpectraLogic has just announced sparkling results.
Two of the biggest cloud service providers in the world are using tape for archiving because its virtues in terms of scale, reliability, performance and cost-effectiveness are evident enough to them for the two to commit to buying significant numbers of libraries. What better customer references do you need?
The state of tape play
It is almost possible to say that tape's role and future in data centres with a significant data archiving need is secure. We would need more examples like Google's and Amazon's use of tape before saying that.
(Facebook has a similar archiving need to Amazon and Google, but appears to be pursuing the idea of using solid state storage for its photo archive – prioritising archive access speed. It announced this at the Open Compute Summit in January.)
Tape in a library has an inherent access latency as the cartridges have to be picked by a robot, transferred to a drive, the drive started, and then the tape streamed to the right section of the ribbon. This will never be avoided unless, like disks, tape cartridges each have their own drive, a most unlikely occurrence and one that would drive up tape cost significantly.
The most significant long-term threat to tape archiving could be cheap flash, the 3-bits per cell triple layer cell (TLC) NAND. However, its future will be affected by NAND scaling issues (untested 3D NAND chip stacking is one way of boosting storage density when NAND can't be scaled down anymore) and uncertainty about NAND replacement technologies such as Phase-Change Memory or Resistive RAM.
For decades a soldier's main weapon has been a device to fire a lethal projectile across a distance to the enemy. It looks likely to remain so as alternatives to the gun are simply not feasible and gun technology keeps on getting refined. Tape plays a similarly long-lived role in the data protection arsenal and its future looks just as assured.
Tape offers an escape from the excessive cost dead-end of deduplicating disk archives. ®
* A Clipper Group report (PDF) looked at the total cost ownership of disk-based and taped-based systems and concluded tape delivers a significant TCO advantage over disk.
Sponsored: Learn how to transform your data into a strategic asset for your business by using the cloud to accelerate innovation with NetApp