Virident bulks up FlashMAX, but it still can't sprint
Flash card's had too many protein shakes and not enough treadmill time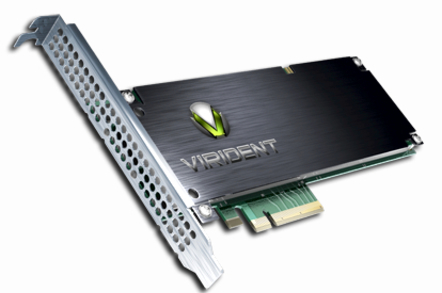 Virident has added muscle to its FlashMAX server flash card by more than doubling its capacity – but it isn't as quick as their marketing bumf wants you to believe.
Its FlashMAX II capacity model stores up to 4.8TB in a low profile (half height, half length) PCIe form factor. Virident says it's optimised for hyperscale computing environments; the market for which Fusion-io made its ioScale product. The FlashMAX II performance model stores 2.2TB.
Adding more flash means more apps in the server can get the benefit of avoiding waits for access to data; they run faster. It's like giving an airport more runways - more planes can take off and land so more passengers can use the airport.
Virident is being bought by disk drive manufacturer Western Digital for $685m.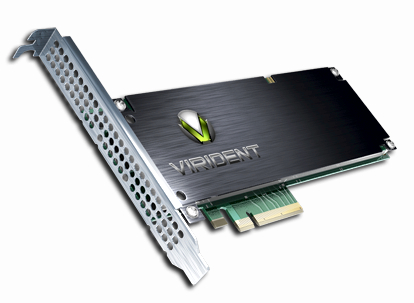 FlashMAX II Capacity product
The product does 270,000 random read IOPS, down from the 325,000 recorded by the FlashMAX II performance model, and the 160,000 attributed to the standard model. It's sequential read bandwidth is 2.6GB/sec, a tad lower than the performance model's 2/7GB/sec and substantially higher than the standard model's 1.6GB/sec
Virident does not provide a random write IOPS number or the sequential write bandwidth; El Reg's storage desk presumes they would be between the standard and performance model values too, meaning 48,000 to 103,000 random write IOPS and 540MB/sec to 1GB/sec sequential write bandwidth.
Virident does provide its sustained mixed IOPS value - 75 per cent read/25 per cent write - of 120,000, which compares to the standard model's 110,000 and the performance product's 220,000. I guess we can infer the new product's write performance is nothing to get excited about.
The product has the same CONNECT software as the performance model for sharing flash resources between servers and the same vFAS technology for turning it into storage memory. Virident says the product's performance will be consistent over its life.
The FlashMAX II capacity product will be available before the end of the year. ®
Sponsored: Learn how to transform your data into a strategic asset for your business by using the cloud to accelerate innovation with NetApp