Dell 'disappears' cut-price Windows XPS 10 RT tab
Soon Microsoft will have only tabs with OS variant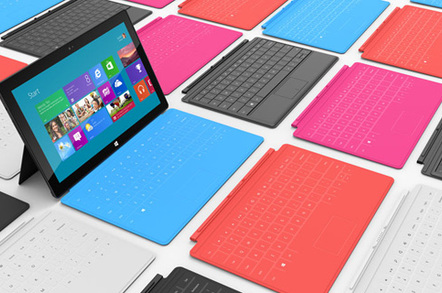 Dell, the last bastion of Windows RT on fondleslabs - outside of Microsoft itself - has refused to give a public seal of approval to the OS ahead of a product refresh next week.
This comes after the XPS 10 tablet models running Windows RT disappeared from parts of its website. While the devices are no longer available at Dell's US web shop, two configurations can still be bought in Blighty, both carrying a £100 discount.
RT was released alongside the full fat Windows 8 in autumn last year, but it didn't have the full backing of OEM partners from the start, with some worried it would confuse punters.
A bunch of hardware-makers, including Samsung, Lenovo, HTC and Asus got out of the RT space, while others – including HP and Acer – didn't ever really enter it in the first instance.
A company spokeswoman refused to give RT-based tabs the full corporate backing ahead of the new Win 8 models. It is unclear whether these models will run 8.1 out of the box, or whether users will have to update. Asked whether Dell was about to fire a bullet into the line, she responded: "Well I can't comment on that.
"We haven't announced anything pertaining to upcoming products. We have an event happening next week in which we'll be announcing the new range."
Dell gave a sneaky peak of three new gadgets to Geek News Central including one eight-incher and two 10.8-inch tabs.
Two are Intel-based and one has an ARM Qualcomm CPU. The latter could indicate Dell is prepared to have one final roll of the dice on RT, perhaps with Windows RT 8.1.
Tim Coulling, senior analyst at Canalys, said all other tab-makers have now abandoned RT because it was "not backwards compatible", had "very few applications" and was not properly explained to users.
According to Canalys numbers, 261,000 RT tabs were shipped worldwide in Q1 and 84,000 units in Q2, which gave the OS a market share of 0.25 per cent.
Only Microsoft seems to be publicly committed to RT, though even it is altering the branding on the next version, calling it Surface 2 (not Surface RT 2). ®
Sponsored: Minds Mastering Machines - Call for papers now open