Got it taped: The business of tape-based disaster recovery
Taking a risky - or risk free? - hike up Iron Mountain
Rack space
You won't find any heavy duty servers or even LTO tape machines at Iron Mountain though, just like you're unlikely to find a printing press at a public library.
When you walk inside the Iron Mountain secure storage area at the Bristol premises, you're immediately struck by the controlled environmental conditions. The temperature is set to 20°C (±3°C) and the humidity hangs around 50 per cent (±5%). It's normal enough and not unpleasant, you just notice it as being a different, albeit an unchanging atmosphere.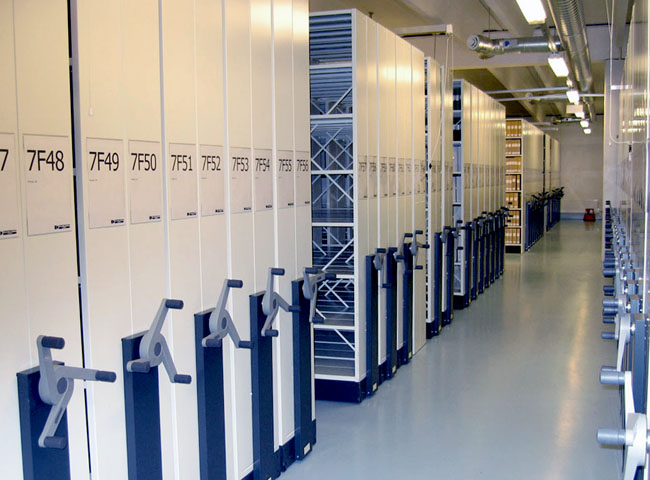 Mobile shelving similar to that found in the secure vault at Iron Mountain. Source: Bruynzeel Storage Systems
Each area is dominated by numerous rows of mobile shelving – these wide metal racks can house up to 400 tapes apiece – and, combined, up to 250,000 items can be stored here. At the end of every shelf is a smoothly geared handle that, when turned, effortlessly moves the rack along the floor. Space can be conserved this way as shelves holding tapes less frequently accessed can be bunched together, to be rolled apart again when needed.
To make it easier to maintain the environmental conditions, the upper floor is merely a grating, so everyone wears trousers there, including the men. If a fire were to break out, this flooring mesh also serves the purpose of allowing the Inergen gas to circulate rapidly to extinguish it. Overhead, stripes of bright red Inergen gas piping cover the data store and are connected to 50 x 80litre gas bottles racked up outside in the packing warehouse.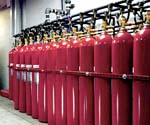 Inergen gas bottle array
While there are only a handful of people working in the store, they're busy collecting tapes to put in cages for dispatch or unboxing client collections for storage on the shelves. At every stage, Motorola Mobile Computer scanners are used to log the transit of each tape with Odyssey software (now Symantec Mobile Management) keeping track of these movements. As Lloyd declares, "Nothing moves that we don't scan."
Each client tape has its own unique tri-optic bar code and Iron Mountain includes its own system labelling too for client identification. While certain areas of shelving remain reserved for specific companies, only those in the know would recognise their tapes from just a glance. Logging plays such a critical part in this business that not only is there a very clear procedure for tape retrieval, dispatch, collection and storage for the Iron Mountain staff to follow, there are also very strict authorisation protocols to be adhered to as well. Any requests from a client will likewise be logged and identity/authority checks performed before any media is handled.
It's not just the client staff that get the once over either, as Lloyd explains. "All staff are vetted to the baseline personnel security standard (BPSS), enhanced CRB (Criminal Records Bureau), employment checks, other background info and every three years they are revetted." It sounds like overkill for just driving a van around and stacking shelves with tapes, but Iron Mountain is a List X site. This is the term used to describe commercial premises for government suppliers and contractors that meet security standards to handle sensitive material with staff vetted to a specific level.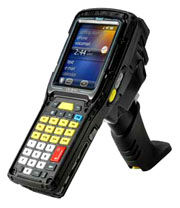 Motorola Omnii XT15 logistics handheld
Even the deliveries and collections have certain protocols – they have to be by road and the vehicles are double manned. There are exceptions, says Lloyd: "Sometimes there's a panic to retrieve records for a court case and you'll have someone carry the media to deliver on the next available flight."
In most cases this is sensitive material that's all sealed up. As you can guess, that goes down well with airport security.
"US Customs can have 'a bit of an opinion' about things, which can slow down entry but we know the correct procedures, so there's no reason why we wouldn't get through."
Reel world scenarios
In the UK, Iron Mountain has a fleet of 350 vehicles, including sixty-nine 7.5 tonne lorries. The Bristol premises has 18 vehicles at its disposal and although some are reserved for paper transport, the facility still gets through 1500 tape movements a day. Tapes are typically transported in foam-lined containers – Peli cases being the preferred option for transit as they are waterproof and robust. The handheld barcode reader is primed to know what to expect when these boxes are scanned as they are loaded on to the van. If something's not right, it'll flag it up.
You'd think this was a perfect system, but when wandering around the vault there was one small space on a bench that caught my eye: the Quarantine Area. If a mystery tape appears from nowhere, that's where it will be kept, as the process of identification begins. Lloyd was quick to point out that such an occurrence is extremely rare and, if proof were needed, the Quarantine Area was, indeed, untenanted.
Handling unknown tapes is one thing, but what about unwanted media? If a company goes bust, what happens to its backups? This tape archive is taking up space and nobody's paying for it. According to Lloyd, such a situation is handled by the legal department and nothing gets destroyed without the nod from the lawyers first. Of course, there are times when tapes are disposed at the client's request. That process isn't simply a matter of degaussing – which would happen if the tapes were removed from site prior to destruction – but amounts to shredding the tape into tiny pieces that, even if you could reconstruct, certainly wouldn't be in the right order.