Is storage kicking servers in the battle of the bundles?
There's more to life than consolidation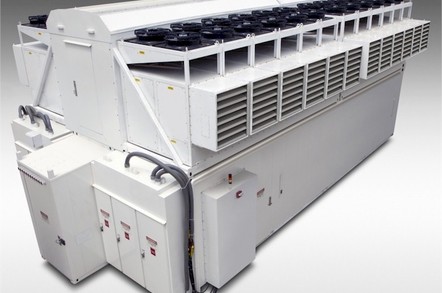 Converged infrastructure products, integrated computing platforms, single-stack solutions, data centre in a box: whatever you call them, the benefit of buying storage, servers and networking in a single, pre-engineered bundle is that, vendor-wise, when something goes wrong, you've only got one butt to kick.
That's not quite how IT vendors put it, of course: they're more likely to talk up the benefits of time-to-deployment or single-pane-of-glass management of deploying products such as Vblock from the VCE coalition of VMware, Cisco and EMC, or IBM PureSystems or NetApp Flexpod or HP CloudMatrix. At a push, they'll mention the advantages of having a "single throat to choke".
But however the benefits are described, storage has taken a back seat in customer decisions to invest in these products, which accounted for just under 4 per cent of data centre infrastructure spend in 2012, according to IT market research company IDC.
Servers, by contrast, have been in the driving seat as IT teams focused their efforts on consolidating the workloads previously performed by many smaller machines through virtualisation and migrating them on to fewer, larger hosts. That, however, is starting to change as legacy storage infrastructures run into problems.
First, the wholesale virtualisation of servers in data centre environments has made previous approaches to storage management unsustainable. In some cases, the savings organisations make by consolidating servers end up being used on extra storage capacity, as default sizes for virtual machine disk images get set unnecessarily high by over-cautious admins. For many, that has resulted in vast over-provisioning and under utilisation of networked storage.
Then, there are the accompanying performance problems to contend with. If you stick 20 VMs on a physical host, their I/O streams start to compete. Traditional networked storage falters as spinning disks struggle to respond quickly to large amounts of random I/O.
Second, there's the 'big data' problem: most companies are simply trying to store and manage more data than they have ever before, but most recognise that simply buying more will not solve the problem.
In other words, legacy storage architectures are costly, cumbersome and complex to manage. Plus, they're increasingly placing a roadblock in front of further server virtualisation - and that stands in the way of further data-centre consolidation and the migration of new workloads to the cloud.
Storage: the 'next big bug-bear'
"The focus for our clients is now very much on storage," confirms Alex Mcloughlin, a director at systems integration firm Union Solutions. "A lot's been done already in server consolidation and many organisations feel there's not much more to be gained there right now. But storage is the next big bug-bear to tackle and they're looking to abstract it by building a software layer that will enable them to make storage decisions based on cost per gigabyte and the service-level requirements of individual applications," he adds.
It seems they're looking for an approach to storage that eliminates traditional silos. Converged infrastructure products that combine compute and storage resources on the same physical infrastructure, with common management capabilities, answer that need. As a result, storage is becoming a more important consideration in converged infrastructure buying decisions and may even replace servers as a driver of platform choice for some IT departments, says Mclouglin.
Many of the reasons IT teams have already invested in converged infrastructure stacks are as applicable to storage as they are to servers. For a start, there's that 'one arse to kick' argument: with a CI stack, there's one number to call and one support organisation to speak to when something goes wrong. The finger-pointing that often goes on between storage, server and networking vendors unwilling to 'own' a particular problem is avoided. That can be a powerful draw, says Mike Price, a virtualisation specialist at systems integration firm Logicalis.
There are other advantages, too. Converged infrastructure products are much quicker to deploy because they arrive pre-integrated. "Whether IT likes it or not, my perspective is that people in the business want systems up and running quickly," says Valdis Filks, an analyst at Gartner.
"The question for them isn't whether the IT team is capable of ordering servers, storage and networking equipment separately, taking delivery, putting it all together and testing it, but just how long that process is likely to take," he says. "Implementing standardised applications often doesn't justify that effort. Bosses would rather IT passed the screwdriver to the vendor."
At this point, it's worth pointing out that there are various subtleties in terms of the extent to which systems are pre-integrated and pre-configured. Analysts at Gartner, for example, make fine distinctions in the converged infrastructure category between Integrated Infrastructure Systems, Integrated Workload Systems and Integrated Reference Architectures. The differences lie predominantly in whether the kit is assembled by the OEM or further down the chain by a VAR, and whether or not applications are included in the original bundle or added later by the reseller. From the point of view of most end-customers, however, the experience is roughly the same: unless it's a very large shop piecing a Reference Architecture together, it gets a package from suppliers that is ready to run.
While CI stacks are rarely cheaper in terms of upfront capital investment, they may offer reduced cost of ownership over the long term. Pre-validated configurations mean fewer interoperability issues. Patches are only released to customers once the vendor is sure that patches for one part of the stack won't create problems with other parts of the stack. And the fact that all that technology is consolidated into one 'tower' - a dense, self-contained enclosure - typically means a smaller footprint in the data centre and lower costs for power and cooling.
Finally, CI stacks come with a single management console that puts all the tools needed to run the disparate parts of the infrastructure in one place. That, according to vendors, saves time and lowers complexity for admins. In fact, executives at HP claim that it will ultimately render titles such as 'systems admin' and 'storage admin' redundant as they are replaced with 'converged infrastructure admins' - a potentially ominous prediction for some.
Sponsored: Minds Mastering Machines - Call for papers now open