Dog bites man: Apple's Macs trounce all Windows PCs in customer love
Smartphones? Not so much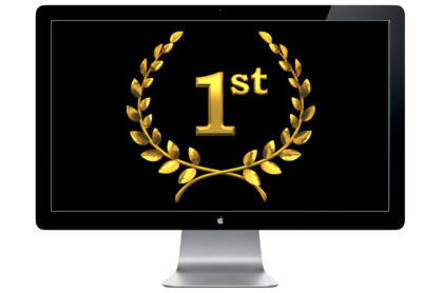 Once again, Apple's Macs – desktops and laptops – have outscored any and all windows PCs in a customer-satisfaction survey: the American Consumer Satisfaction Index (ACSI).
"Apple maintains the strong lead it has held for a decade, inching up 1 per cent to an ACSI score of 87," the consumer-surveymeisters write in a report (registration required) published on Tuesday.
Apple's score edged up one point higher than in last year's survey – ACSI has been doing this since 1995 – and is seven points higher than its closest competitor, HP, which also rose one point from last year. Number three, Dell, sank two points from its previous score.
Noting that the Windows-based PC manufacturers all lag behind Apple, ACSI offered condolences. "Microsoft's revamped Windows 8 operating system, included in all new Windows-based PCs since its release last year, does not seem to have provided a bounce in sales or in customer satisfaction for these manufacturers," it writes.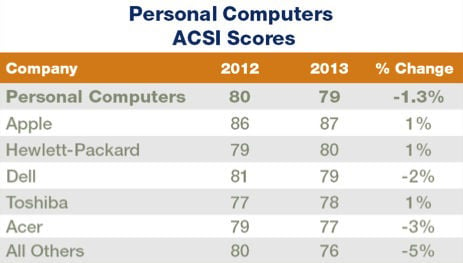 If you're a PC punter, you don't want to be among the 'All Others'
All PC manufacturers are suffering, ACSI notes, while tablet sales are rising. "For the year, tablet sales are expected to be up by as much as 70 per cent," they say, "while sales of PCs (desktops and laptops) are projected to fall by 10 per cent. Global PC shipments dropped 11 per cent in the second quarter, the fifth straight quarter of contraction."
Although Apple leads the PC pack in customer satisfaction, ACSI notes that Mac sales are slowing along with sales of Windows-based PCs. From where we sit, the next iteration of OS X, dubbed Mavericks – build 8 of which was released to developers yesterday and which is expected to ship in late October – is unlikely to spur a surge in sales of Apple's desktops and laptops, and the new dual–Intel Xeon computer-in-a-beer-can Mac Pro is likely to have a negligible market share.
In addition, although Apple's lead over Windows may be strong when it comes to customer satisfaction, the same can't be said about its smartphone line. In an ACSI report published this July, Apple iPhones lost out to Samsung's Galaxy S III and Galaxy Note in US consumer satisfaction. ®
Sponsored: Minds Mastering Machines - Call for papers now open