Bother! Breakdown busts bloke's bold boffin-blasted briny boat balloon bid
IT chap Trappe makes Newfoundland-fall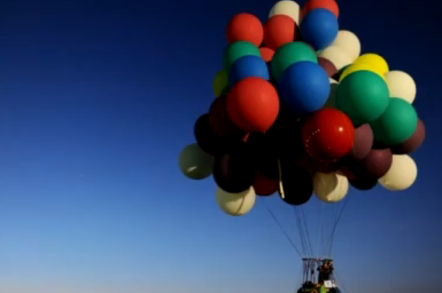 An IT bloke hoping to fly across the Atlantic in a small boat suspended Up-style beneath a cluster of multicoloured balloons has had his dream dashed, according to reports.
Jonathan Trappe lifted off in heavy fog from the US state of Maine on Thursday, hoping that the forecast winds would carry his small yellow lifeboat gondola - lifted skyward by 370 rainbow-hued helium balloons - across the ocean to a safe landing somewhere in Europe.
Trappe - in daily life employed as an IT manager in North Carolina - is a veteran cluster balloonist, having previously used similar methods to cross the English Channel and the Alps. On some of his previous flights he has actually ridden in a small plastic house in homage to the eldster-quest/kid/dog/zeppelin/etc-themed cinematic offering Up, but on this occasion a boat was deemed more practical given the possibility of coming down in the oggin.
Sadly the bold balloon bid has now been dashed, with Trappe's support team confirming that an unspecified technical hitch has forced the intrepid skyboater to set down in Newfoundland. However he is apparently safe and unhurt.
Given the nature of Trappe's aircraft, it appears almost certain that this landing means he has lost much or all of his helium, suggesting that he won't be able to renew his attempt. Filling the hundreds of balloons in a timely manner called for 150 volunteers present at the Maine launch site (and purchasing the pricey gas necessitated a serious online fundraising campaign).
The knowledge that Trappe's attempted voyage would involve expending a good deal of helium caused British boffinry institution the Royal Society of Chemistry to criticise his plans sternly back in July. RCS chap Dr James Hutchinson blasted Trappe's boat-borne ballooning a "gross waste of a precious element", alluding to helium's many uses in medicine, scientific research etc.
However, as we pointed out at the time, ballooning or other employment as lifting gas accounts for a few per cent at most of helium use. If Dr Hutchinson is truly concerned about possible helium scarcity in the future, he would do well to campaign against its much heavier use in industrial welding (where it could nearly always be replaced by argon).
Dr Hutchinson might also try to persuade the world's space agencies to shift away from liquid-hydrogen-fuelled space rockets (such as the Ariane V, Delta IV Heavy, upcoming NASA Space Launch System etc) and toward kerosene or solid-fuelled jobs (for instance the Atlas V or Elon Musk's Falcon offerings). Huge amounts of helium are required to operate LH2-fuelled rockets, as it is the only gas suitable for purging their necessarily hyper-cold cryogenic systems. (This, in fact, was the primary reason for the US government setting up its Strategic Helium Reserve. US government helium policy, rather than reckless ballooning, is probably behind the various problems besetting the world supply of the precious gas.)
So it's probably OK to commiserate with the intrepid Mr Trappe, and hope along with him that he'll get to make another attempt at some point. ®
Sponsored: Minds Mastering Machines - Call for papers now open