NASA: Humanity has finally reached into INTERSTELLAR SPACE
Voyager probe exits Solar System after 36 year journey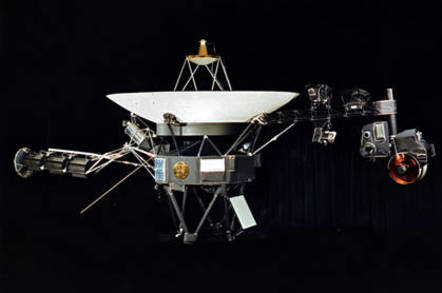 Data beamed back from the Voyager 1 spacecraft has shown that the probe has left our Solar System and entered interstellar space, becoming the first manmade object to travel beyond mankind's home system.
At a press conference on Thursday, NASA engineers said that the probe actually made the leap last year after travelling 12 billion miles from Earth. The agency now confirms that Voyager has passed through our sun's heliosphere, and is now heading out into deep space at a million miles a day.
"In leaving the heliosphere and setting sail between the stars, Voyager has has joined the other historic journeys of exploration such as the first circumnavigation of the Earth or the first footprint on the Moon," said Voyager project scientist Ed Stone.
"This historic step is even more exciting because it marks the beginning of a new era of exploration for Voyager: the exploration between stars."
Scientists have been arguing over when Voyager actually crossed the boundary point into interstellar space for months. But data from the Voyager probe's instruments shows that the spacecraft is now out of the influence of our sun and has been navigating the space outside our Solar System since August 25, 2012, NASA said.
Opinion has been divided because some of the instruments needed to detect such a change have failed since the probe began its journey in 1977. The instrument designed to measure plasma fields from the Sun failed in 1980, but the radio antennas on Voyager were reconfigured by NASA to feed back information to back up theories about what lies outside our immediate environment.
That said, Voyager's distance from Earth – and the obsolescent nature of the probe – makes it tricky to get good data back from the old fellow. It takes over 17 hours to receive a signal from Voyager's 22 watt transmitter, and by the time it reaches Earth the signal has been degraded to a billion-billionth of a watt.
"We've exited the material created by the Sun and we're in a truly alien environment," said NASA physicist Gary Zank. "The material in which Voyager finds itself is created by our neighboring stars and supernova remnants, and so Voyager in some very real sense is in material that is not from the medium in which it finds itself – and so we've truly crossed over."
There's still the fate of Voyager 2 to consider. That probe is travelling slower than its sibling and is a few billion miles behind in terms of distance from Earth, but will provide useful data to corroborate our findings of what life is like beyond the black. ®
Sponsored: Minds Mastering Machines - Call for papers now open