Everybody Loves Rayman: Legends dethrones Mario
Plus: Diablo III's console conversion, and Lost Planet 3 goes icy, slicey
Disaster recovery protection level self-assessment
Console-ation prize
Other changes see an end to the Diablo 3 marketplace that controversially became a black market for legendary equipment dealing in very real cash. Instead Blizzard has simply increased the likelihood of legendary items dropping as loot, though some would argue these artifacts are now too easy to get hold of.
Otherwise Diablo 3 on consoles is much the same as the PC release. The included classes, the number of monsters you'll splatter and the number of barrels you'll splinter are all identical. Combat is so hectic that it proves compelling, despite its repetitive nature, and the looting factor means you'll trawl every inch of the game's dungeons.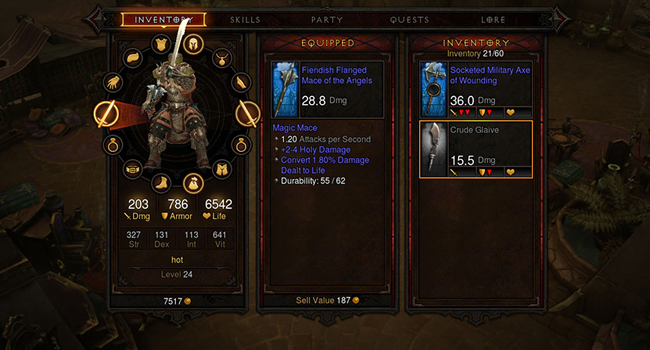 Stats quo
Multiplayer too makes an appearance, and it's handled well, with drop-in, drop-out play supported for up to four players. A sliding difficulty scale – that ups the ante when allies appear – works as you'd hope, with the only niggle provided by intermittent pauses as your fellow heroes equip themselves with items.
All in all, Diablo 3 on consoles, despite changes to its controls and looting system, is every inch the game it was on PC. Quite whether you consider that a positive outcome depends on how much you enjoy obliterating the minions of hell while laughing inwardly at the hammy story.

Lost Planet 3
Much like its lead, Jim Peyton, Lost Planet 3 is rough around the edges but with a heart of rugged charm beating at its centre. Unlike the previous two outings, which emphasised giant bug hunts over narrative, Spark Unlimited's take on the series splits priorities between story and combat, and is much the better as a result.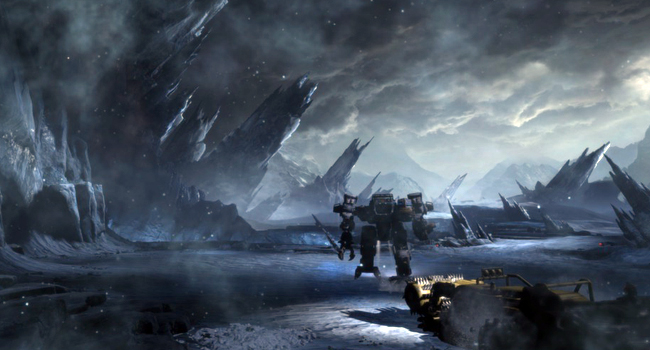 Mech an' iced
How Spark accomplishes that makes for a refreshing change too. Rather than delivering into our hands a gnarled soldier, they present us with Jim Peyton, an everyman who finds himself on the hostile ice planet of EDN III not to play hero, but simply to provide for his family back on Earth.
Jim's personal narrative is fleshed out through impressively poignant video diaries to his wife that actually have you caring about him. An atmosphere of impending doom is soon instilled so you'll even begin to fear for his crewmates as you explore the NEVEC Company base he calls home.
So far so good then, and Lost Planet 3's icy setting is a further plus. The shivering winds and freezing temperatures come across authentically, as snow crunches under foot and icicles form in Peyton's auburn beard. That EDN III is also home to a fairly diverse range of Avatar-inspired fauna doesn't harm the feeling of danger either.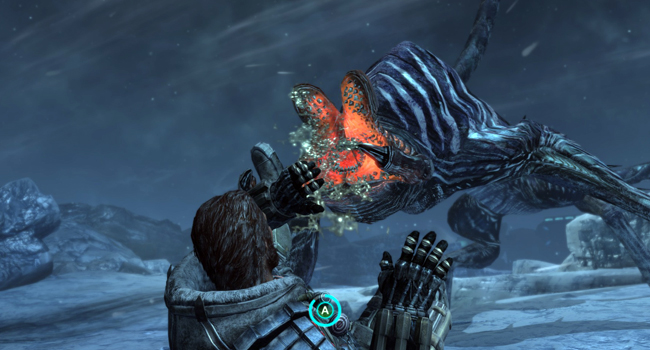 Maw the merrier
Lucky for Peyton then that he doesn't have to navigate its surface entirely on foot. Instead he can take to his rig – a giant bipedal mech that comes equipped with both claw hand and drill arm – thus turning the tide on all but the most monstrous of indigenous nasties.
After such praise you can almost feel the 'but' coming. In the case of Lost Planet 3 it arrives when the guns start firing. For all the deftness displayed in the crafting of narrative and environment, it seems a solution to the stale formula of 'shoot the aliens in their glowing bits' still couldn't be reached.
From the merely big to the ridiculously enormous, the enemy Akrid all sport red shiny bits that must be targeted with extreme prejudice in order to progress. Adding to this formulaic aspect is a regulation cover system and noticeably unresponsive controls. Then there's a repeating sub-game of sorts, where your rig freezes over forcing you to blast the ice off while under attack – an endless source of 'meh'.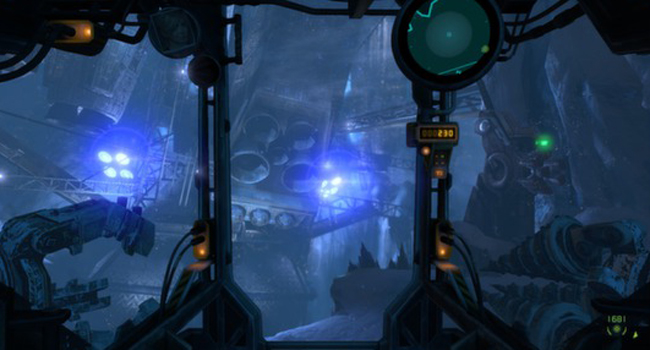 Like, eerie
None of this criticism breaks the game, but these issues detract from Lost Planet 3's good points. I started to wish that Spark had gone back to the drawing board and devised a more nerve-jangling combat element, along the lines of The Last of Us, say.
Instead we're left with a surprise: the story. I don't think anyone expected a Lost Planet game to be commended for its script. It's just a shame that the game's scope is curtailed by its tired action segments pace the giant mech. ®

The business case for a multi-tenant, cloud-based Recovery-as-a-Service solution