Startup claims 1W wireless charging at 10 metres
Tinfoil hats not needed, magnifying glass to examine fine print will be handy
Another company is claiming to have cracked the mysteries of wireless charging, with an outfit called Ossia saying that using the 2.4 GHz band, it can recharge devices over-the-air at distances of up to 10 metres.
Shown off at TechCrunch's Disrupt conference in the video posted here, the charging tech is described as delivering "one watt of power at thirty foot distance", and that works "without line of sight, around walls, and without interfering with other electronic equipment", according to CEO and founder Hatem Zeine.
He says the company expects to ship a commercial version of the product by 2015.
The transmitter unit, he said, can contain up to 3,000 transmitters - "the more transmitters, the higher the efficiency". The Register supposes that Zeine is referring to antennas rather than transmitters, the idea being that multiple transmission from antenna to receiver allow the reflections that would get path diversity to work around corners.
At the other end, the receiver "basically guides the power from the transmitter to its location and only its location" and "uses the incoming energy to charge devices". The transmitter shown at Disrupt was mostly hidden behind cloths, but in this screenshot we get a glimpse of the setup that charged an iPhone from a couple of metres distant: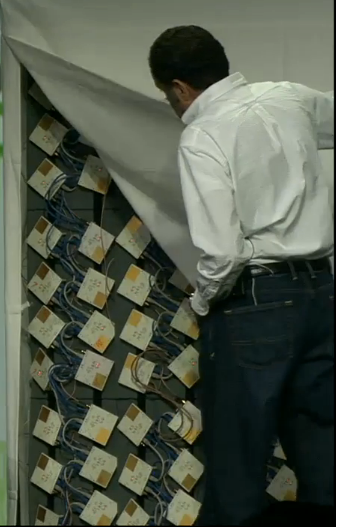 A peek behind the curtain: this array got
the iPhone charge light on at a couple of metres.
The power he demonstrated – on stage, only a couple of metres from the transmitter set – was enough to wake the charging light on an iPhone.
"It transmits at the same frequency as WiFi. People understand how WiFi works, how far the signals go, this is the same kind of thing," he said.
Where The Register finds its scepticism aroused is the question of efficiency.
Taking an unguided point source as the starting point, if the product, Cota by Ossia, it is able to deliver 1 watt at 1 metre, and using the inverse square law as the basis of the discussion, the transmission power would need to be 100 W to achieve the same received power at 10 metres.
Clearly, some kind of beam-forming is at work here, which is hinted at but not explained in Zeine's presentation. His patent filings, including are US 8,4486,248, US 8,410,953 and its part-continuation US 8,159,364 are more explicit.
They key to the charging system seems to be using a phased array of antennas to do the beam-forming, and creating a feedback loop between receiver and transmitter, to let the transmitter adjust to the receiver's location and choose the best signal phase.
Under current spectrum rules, a 2.4 GHz unlicensed transmitter has a maximum power of 4 W – which means its beam-forming has to deliver power 25 times as efficiently as a point source. El Reg will watch the comments with interest.
Ossia has been contacted for comment on this article. If we receive anything further, it'll be posted here. ®
Sponsored: Minds Mastering Machines - Call for papers now open