John McAfee tweets from BEYOND THE GRAVE: Drug binge death? Not me, mate
Eccentric millionaire confirms he's
got

... er... not a stiff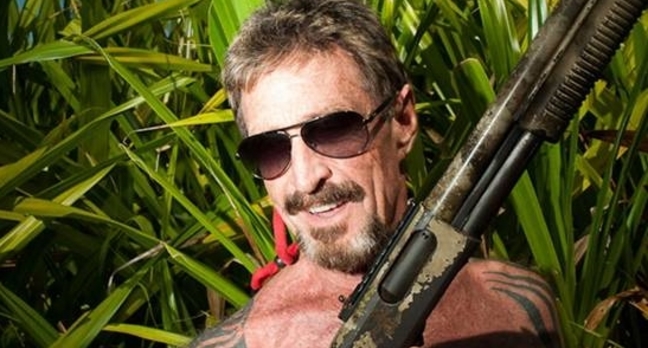 Antivirus software wild man John McAfee has joined Queen Elizabeth II, the Queen Mother, Fidel Castro, and poet Samuel Taylor Coleridge in receiving a premature obituary.
Internet rumours that surfaced on Tuesday falsely claimed the self-described "eccentric millionaire" and entrepreneur had died at the Palms Casino Resort in Las Vegas as the "result of a suspected cocaine and alcohol fuelled binge".
This, it turns out, was not the case.
McAfee himself surfaced to deny the rumours via his official Twitter account in a series of updates. "For those wondering if im dead the answer is...'The Media is killing me, but somehow im still tweeting' #NotDeadYet," he said in an update featuring pictures of him relaxing on a couch alongside two somewhat fearsome-looking dogs.
Morning-check..Pulse...Check...Heartbeat... Check...Boner...Check... #Stillalive #GoodMorning #RT

— John McAfee (@officialmcafee) September 10, 2013
McAfee, who famously faked a heart attack while held in a Guatemala detention centre last December in order to avoid being deported back to Belize where he was wanted for questioning as a "person of interest" in the death of his neighbour, has been noticeably quiet of late. Guatemalan authorities, who arrested the tech mogul for entering the country illegally, eventually sent McAfee back to the US.
The antivirus pioneer has had no connection for many years with the security firm he founded, which is now owned by Intel. Back in June he played up to his wild man image by posting a tongue-in-cheek (and NSFW) video explaining how to uninstall the security software that still bears his name, by taking a handgun to a computer. The vid featured seven strippers and was seen as more of a joke by McAfee than a genuine dig at the antivirus industry, or the eponymous security software in particular. ®
Sponsored: Are DLP and DTP still an issue?