The numbers are in: EMC still ruling storage LIKE A BOSS
Overall market's down, but VMware daddy still floats above them all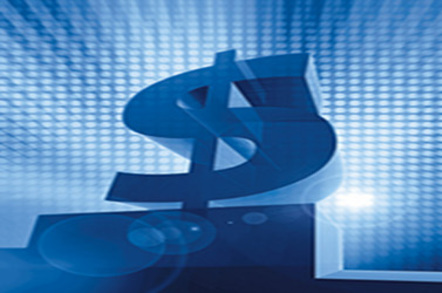 It's that time again: another round of IDC's quarterly storage tracker figures. The total disk storage market has gone down 5 per cent on an annual compare, dragged down by falling server sales.
The external storage (networked disk array) market has gone down just 0.8 per cent, showing the effect of server drag on direct-attach disk storage sales. Apart from that, there are no surprises in the supplier rankings.
First, IDC's tracker looks at worldwide external storage, presenting factory revenue amounts and assigning them and assigning percentage revenue shares to suppliers.
Dell reappears in IDC's table, having previously been relegated into the "others" category thanks to its falling networked storage array sales: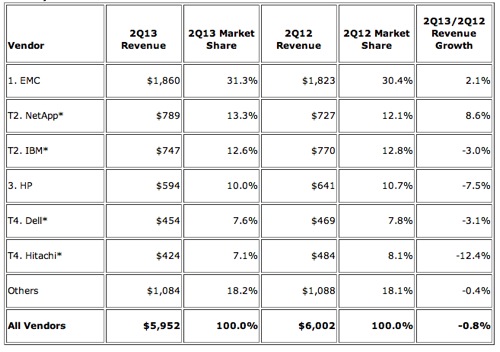 IDC Storage Tracker. Top 6 Vendors, Worldwide External Disk Storage Systems Factory Revenue, Second Quarter of 2013 (Revenues are in Millions)
We graphed the per cent revenue shares and our chart below lumps Dell in with the "others", for continuity with our previous storage tracker articles and charts.
IDC says Dell had a 7.6 per cent revenue share in the second 2013 quarter, down from 7.8 per cent a year ago - no surprise there. Here's the chart: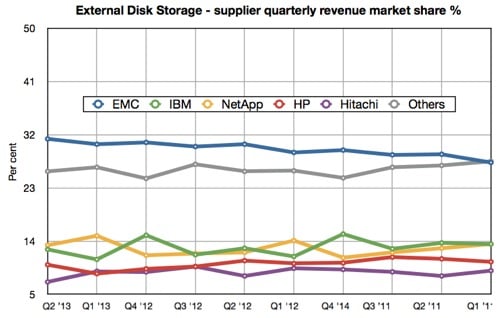 While EMC sales carry on serenely growing above everyone else, HP is showing an abrupt quarterly upturn. IBM has also turned up but that is its pattern; up one quarter, down the next. NetApp is down on a quarter-by-quarter compare as is Hitachi, the bottom of the bunch. The longer term trends here show Hitachi trending slightly down as are HP and IBM, with NetApp flat, having been unable to rise out of this group.
Still, that's just external storage. The picture changes when IDC looks at total disk storage, which includes storage directly attached to servers. Here's the table: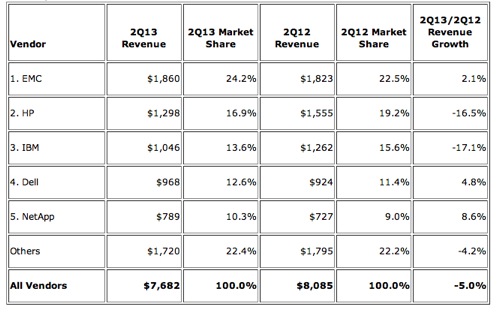 Top 5 Vendors, Worldwide Total Disk Storage Systems Factory Revenue, Second Quarter of 2013 (revenues are in millions)
The market is down 5 per cent year-on-year with HP and Dell showing double digit declines. EMC grew just 2.1 per cent, Dell 4.8 per cent and NetApp wins the annual compare prize as its percentage revenue share grew 8.6 per cent.
However, the quarterly compare shows a different picture … as the chart illustrates:

Click pic for bigger chart
EMC, HP and Dell percentage revenue shares have turned up whereas Dell and NetApp have turned down. Hitachi is included with the others category by IDC as its revenues are too low to stand out. It remains to be seen if the HP and IBM upturns will persist next quarter, and the same question applies to the Dell and NetApp downturns.
A bigger question is whether the disk storage market will continue shrinking next quarter. IDC's anoraks will be poring over the numbers in three months' time. If server sales continue on their downward trend, and flash storage attached to servers continues on a upward trend, then disk storage sales may well carry on gently declining too. How the storage world is changing. ®
Sponsored: Minds Mastering Machines - Call for papers now open