Fancy a new iPhone 5C or 5S? READ THIS or you may not get 4G data
Band chaos means there will be TEN models and you need the right one
Apple might have launched two new iPhone models on Tuesday, but it launched 10 different variants as Cupertino struggles to cope with the hugely fragmented 4G market.
Where a GSM phone might be dual-band or the frequent flyer might shell out for a quad-band handset, Apple's latest phones each come in five variants: two hendeca-band models for the US (GSM & CDMA), a trideca-band version for Japan, Australia gets a deca-band version while Europe has to make do with the hepta-band handset.
The US actually gets six iPhone variants: 4G versions of the 5C and 5S with support for GSM and CDMA, and a special 4G version of each for Sprint customers.
The problem, which afflicts everyone manufacturing 4G kit, is that even now we've settled on a single radio technology (LTE, with TDD and FDD variations) there are numerous bands in which it can operate and, critically, ways in which those bands can be parcelled up – a process known as the Band Plan.
Take 700MHz: currently full of Freeview (Digital TV) in the UK, but perhaps to be cleared for mobile telephony come 2018. If it is cleared then the UK, and Europe, will have to decide how best to carve it up for the network operators, adopting either the US or Asia-Pacific Telecommunity (APT) Band Plan.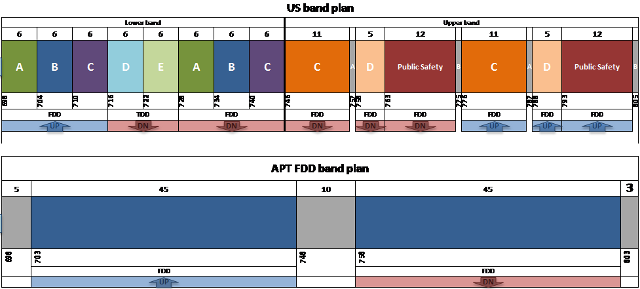 A comparison of the plans, put together by Alexanderkonst and shared on Wikipedia
The bands are numbered, with the APT plan being number 28 and the US version incorporating 12,13 & 17 at least, as the number relates not only to the frequency but the way in which it's managed. That matters because the phone needs to know where to look for a signal, and the plans are incompatible so phones which support both will be few and far between.
APT also supports Band 44, which is the same frequency block only thrown over to Time Division Duplex (TDD, where sending and receiving is asynchronously coordinated) rather than Frequency Division Duplex (FDD, where sending and receiving receive equal chunks of spectrum), but none of the iPhone models support that.
In fact the 10 new variants from Apple don't support the APT plan at all. By the time that matters to Europeans, the phones will be doorstops anyway, but it's already upsetting Australians.
700MHz is an extreme example, but not unique. LTE is the standard which wants to do it all, so some of the 44 bands listed at the time of writing will only find application in point-to-point communications or campus deployments, we shouldn't expect a quadro-duo-icosahedron-band handset any time soon, but travellers will need to get used to falling back to 3G, which happily sits at 2.1GHz just about everywhere. ®
Sponsored: Minds Mastering Machines - Call for papers now open